150k students use Flat World Knowledge textbooks this fall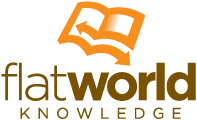 From the press release:
Flat World Knowledge, the leading publisher of commercial, openly-licensed college textbooks, today announced another dramatic increase in the number of colleges and classrooms adopting its textbooks. This fall semester, more than 800 colleges will utilize Flat World textbooks, up from 400 in the fall 2009 and up from 30 colleges in the spring 2009.With Flat World's textbooks saving the average student $80 per class, the company is on track to save 150,000 students $12 million or more in textbook expenses for the 2010/2011 academic year which begins this month.

Flat World's year-over-year growth is fueled by the company's innovative "free and open" textbook publishing model that allows students to acquire complete, high-quality, peer-reviewed textbooks at prices ranging from FREE for online access to only $30 for a softcover print book. Other formats include PDF downloads, audio and ereader versions for the iPad and Kindle, as well as digital study aids.
Their marketing hype used to annoy me (it still does).  But lately I've realized that real change in publishing is only going to come from outside tech companies like Flat World Knowledge. I'm rooting for them to succeed.