Infographic: Fourteen Amazing Shakespeare Facts (Including a False One)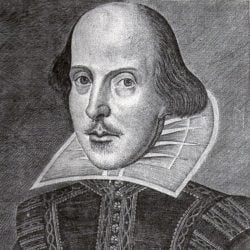 Saturday marked the 400th anniversary of the death of William Shakespeare. In honor of that milestone, CBC Books pulled together an infographic consisting of fourteen "of the wackiest, weirdest and most wonderful facts about the Bard".
One of these facts is not correct. Do you know which one?
I'll give you a hint; it's not the sayings he invented.  Those are just a few of the dozens of expressions he's credited with (here's more).
image by tonynetone