Archos Arnova is a knockoff netbook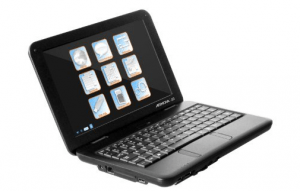 I think it's a knockoff, at least.
Word is going around the tech blogs that Archos have another netbook with a 10" screen and running Windows CE. There's a bunch of problems with the news reports.
First, it's not listed on Archos' website (and they never announced it). Second, Archos have never released a WinCE device; they are focused on Android. If they had a netbook that's what it would use. And third, I think I recognize the hardware design. Look at the trackpad buttons and the 3 status lights on the front edge. I've seen those details before on crappy Chinese netbooks.
If you want to get it, go ahead. It's available on Amazon.co.uk. But don't be surprised when Archos refuses to support it.
Specs:
Processor: Samsung 533 MHz
Memory: 128Mb RAM, 2Gb Flash
Operating System: Windows CE 6.0
Display: 10.2 inch TFT LCD Digital display
Audio: Integrated speaker, 3.5 mm Stereo Headphone Jack
User Interface: Buttons (Power on/off, Reset on/off), LEDs (AC/DC Power, Battery status)
Interfaces/Ports: Standard SD card slot (up to 32 Gb), 3 x USB 2.0, RJ-45, DC-in
Wireless Network: WLAN 802.11 b/g
Battery: 2100 mAH
Dimensions (WxDxH): 182.5 x 270 x 31 mm
Weight: 1.1 Kg