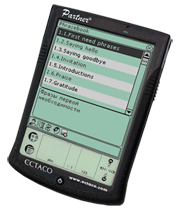 Much to my surprise, Franklin has been quietly supporting its e-rader, the eBookMan, for the past 12 years. It will stop supporting the eBookMan by the end of April.
The eBookMan was first released in 1999, and apparently the same hardware has been sold for the past 12 years. As you can see, it has a vaguely PDA-like design with the text input area below and the display above. As well as being an ereader, also had a number of PDA features like a date book, notepad, music player, calculator, date book, etc.
The reading app was (I believe) Mobipocket, but development stopped after v4.8 was released. That's okay; it should still be a pretty capable reading app. You can actually still buy apps for the eBookMan, and that will also stop on April 30th.
I had discovered that this ereader was still being sold by Ectaco a couple years ago, but at the time I thought that was old stock or refurbished. Franklin never adequately promoted or supported this eReader, so it is something of a surprise that it's still being sold as new.
Does anyone still use one of these things?
Franklin