Comixology Gains Support for Amazon Accounts, Now Lets You Read Kindle Comic Purchases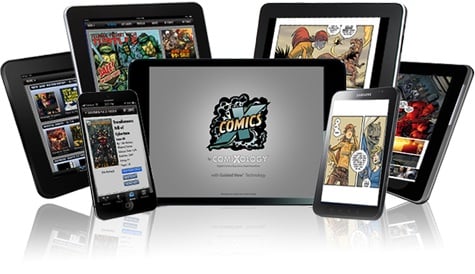 Comixology rolled out an update this morning for its Android and iOS apps (and for the website) which adds a new account option as well as a new source of comics. Anyone with an Amazon account can now use it to log in to Comixology and buy comic books, and if you have both a Comixology and an Amazon account you can merge the accounts.
Once you've tied your Amazon account to Comixology, Amazon will sync your Kindle comic book purchases to Comixology so you can read and manage all (most) of your digital comics in one convenient location.
I've already gone through the merger, and I can report there's a new section of the "My Library" page just for comics imported from the Kindle platform.
I've tried a couple of the comics in my web browser, and they worked. I can also read the comics in a Comixology app for Android, iPad, and iPhone, which were updated today.
The apps can be downloaded from Google Play and iTunes, but you should probably deal with the account merger issue through the Comixology website.
O O O
In addition to benefiting readers, today's news should mollify critics who were unhappy when Amazon acquired Comixology early last year and then removed the buy option from the Comixology app for iPad and iPhone.
Noted comic book creator Gerry Conway, for example, used that development to proclaim that Amazon was going to kill Comixology in favor of the Kindle. He never adequately explained why that would be bad (or why he thought people would be happy reading ebooks on Kindle hardware), but I would say that today's update has proven just how wrong he was.
Thanks, Tim, for the tip!