A Virginia High School Rips Out Lockers, Replaces Them With Benches and Charging Stations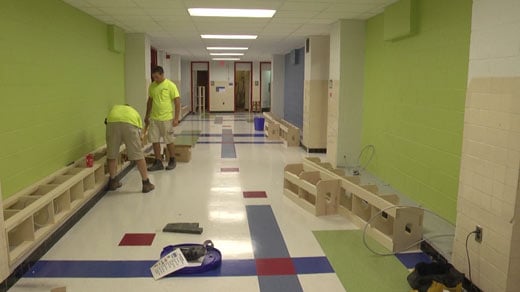 In late 2011 a story went around that Ikea was anticipating the death of books by adding doors to its bookcases and by releasing a model with deeper shelves. The story was nonsense on the face of it, and was soon denied by Ikea, but even as a work of fiction it still stands as an example of the impact new tech has on interior design.
Here is another example (a real one, this time).
There was something missing from Albemarle High School when students returned to its halls at the beginning of this school year: lockers. Over the summer, this Charlottesville, VA high school tore out hundreds of lockers and replaced them with benches and charging stations.
Albemarle County School District is in the second year of its 1-to-1 laptop program, and for Albemarle High School that means that every student was either issued a laptop or allowed to bring one from home. With nearly 2,000 students walking the halls, that means 2,000 batteries and 2,000 charging cables. That is enough to tax the facilities of any school, but the high school administration anticipated the problem and decided to test a radical solution.
Over the summer, the high school ripped out the lockers in three of its hallways and replaced them with whiteboards, benches, and outlets:
With much of the curriculum either available online or as downloads, classes are less textbook-based than they were in the past, and so it made sense to replace the lockers (which students weren't using anyway) with space that students could use to continue collaborating on assignments outside of class.
"We decided to get creative and think about how to modernize a building that's 60 years old to meet the needs of kids today," AHS Principal Jay Thomas said. "The lockers were just taking up space. Now, our school is more of an open campus."
Thomas disclosed that only 25 students had requested lockers last school year, which is why he decided that charging laptops was more important than having a spot where students could store their books.
And that's not just the principal spinning his decision; one student explained why students weren't using the lockers in the comment section of one of my sources, writing that "it's not that most of us think it's uncool to have a locker, it's that Albemarle is quite large and to go back and forth from our lockers takes up time".
The renovations were funded from the general budget, and funds were also used to outfit classrooms with computer charging carts and power strips. Should this prove successful, Thomas said that similar renovations may occur in other local schools over the next three to five years.
And that would be a great move.
I, for one, almost never used the lockers when I was in school, so replacing them with a bench and outlet would be an improvement.
Between the 6th and 12th grades, I attended nine schools, eight of which had lockers (the exception was an elementary school). I only used the lockers at two of the schools; The rest simply were not conveniently placed (and then there was the school that was so crowded that I had to share a locker).
So yes, replacing the lockers would be a good move. It would change the locker from being a location students couldn't reach in between classes to one were students might gather as a group to work on a project.
That turns the hallways into learning space, and not just a thoroughfare. It would be an improvement – possibly a noisy one, but an improvement nonetheless.