Amazon Acquires SkyNet's Understudy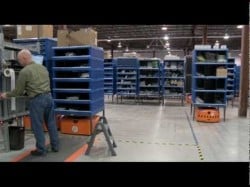 Amazon announced late this afternoon that they're buying a tech company who specializes in warehouse automation. Do you recall all those stories bout the terrible working conditions in Amazon's warehouses (not that much worse than elsewhere)? Yeah, that could be why Amazon did it.
But probably not; it's more likely that Amazon did the math and figured out that they could improve the efficiency of their warehouse operations.
Kiva Systems is a ten year old start up that has been working to develop robotic carts and a control system to manage them. Their platform is built round these small orange carts, and Kiva has already sold them to a number of different companies, including Staples, The Gap, and Toys-R-Us, who opened a new warehouse  with them last year. The estimated cost for a new warehouse using Kiva's robots is $15 – $20 million.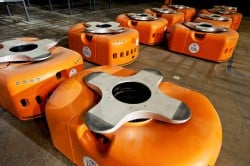 In fact, CNN reported last year that Amazon is a customer.
Now that's a detail I don't recall from the stories I read about Amazon's warehouses. Gee, I wonder why it was left out?
Amazon is buying out Kiva's outstanding shares for $775 million. Following the acquisition, Kiva Systems' headquarters will remain in North Reading, Massachusetts. That will keep it in close company with other robotics firms, including iRobot, as well as MIT's robotics department, the wholly font of robotics.