Android has Taken Over OLPC: New 7″ and 10″ XO Tablets at CES 2014, Android 4.3 on the XO-4 Laptop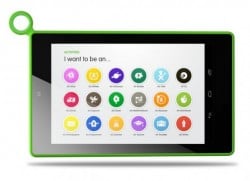 CES 2014 is only a few days away, and thanks to the latest news from OLPC and Vivatar they are high on my list of booths to visit.
Details are still scarce (I still don't have any images), but Vivitar is saying that they will have a couple new co-branded XO tablets in their booth next week. Alongside the Hello Kitty, Barbie, and other branded tablets CES attendees will find a 7″ and a 10″ educational tablet running software developed in partnership with the One Laptop per Child project.
Vivitar hasn't shared the full specs on the new XO tablets, but I do know that the 7″ model will have a couple cameras (5MP and 2MP), Wifi, Bluetooth, 8GB of storage, and 1GB RAM. Screen resolution will reportedly be 1024 x 600, which coincidentally is what you will find on many sub-$100 Android tablets.
The larger tablet will have the same screen resolution and cameras as on the 7″ tablet. It will also have GPS and a larger battery (12 hours vs 7 hours). Both tablets will use a quad-core CPU. There are no details yet on price or release, but I expect that we'll see the tablets around the middle of the year.
They'll be running Android with a heavy dash of OLPC's software running on top, and you'll also be able to buy accessories (yes, MOAR STUFF).Vivitar plans to slap an OLPC logo on a wireless keyboard as well as a digital telescope with up to 200x magnification and a digital microscope with up to 300x magnification.
Similar educational accessories are already on the market, but they are rather expensive when compared to the price point of most budget Android tablets. It remains to be seen whether Vivitar will come up with a better value proposition than what is currently on the market. Given that OLPC will likely be taking a license fee from the use of their brand, there's a good chance that an unbranded accessory might be the better value.
—
In other news today, work is progressing on the XO-4, OLPC's next generation laptop. This laptop is expected to debut next year with a Marvell dual-core chip and a 7.5″ touchscreen. In addition to Sugar, the OS developed by OLPC, students and teachers will also be able to run Android.
Chris Derndorfer recently posted a couple photos on Flickr which show Android 4.3 Jelly Bean running on the XO-4:
This version of Android is described as being in the early stages of development. It's publicly available, yes, but it is still being optimized for performance (and I would bet that it is also buggy). You can find out more in the Laptop.org Wiki.