Apple Expands iBooks Digital Textbooks Into 51 Countries
I've always
said that Apple was more interested in selling hardware than content but if the press release today is any indication then that may be about to change. Apple put out a press release today which touts the expansion of the textbook section of iBooks.
Well-to-do students and schools in countries across Asia, Latin America, and Europe can now use digital textbooks in the iBooks apps for iPad and OSX. The textbooks are now available in 51 countries around the world, with prices starting at $10 (plus $300 for the iPad Mini or $400 for the iPad 2). Apple boasts that they now stock 25,000 textbook titles from a variety of sources including teachers, indie publishers, and major textbook publishers like Cambridge University Press, Oxford University Press, and Pearson.
Digital textbooks have always been a key part of Apple's plan to sell more hardware to schools, and have led to numerous 1:1 programs at schools and universities as diverse as Lynn Universtiy in Florida, 27,000 iPads purchased for schools in San Diego, and of course the much troubled LAUSD iPad program. And it was around this time last year that Apple announced that 8 million iPads were in schools.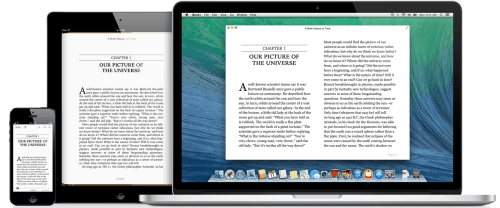 But in spite of the importance Apple has placed on digital textbooks on the iPad, they have yet to develop a similar interest in their other hardware. iBooks textbooks are still unavailable on the iPhone, and it was only a few months ago that iBooks launched on OSX.
There's no word today from Apple on how many iPads they have sold to schools lately, but I would not be surprised if the number had increased significantly over the past year.