Apple Gives iBooks a Behind the Scenes Update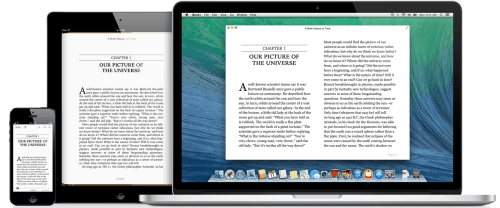 Apple sent out an email today to authors and publishers who upload ebooks directly to the iBookstore with news about new features and improvements to iBooks, including new details on custom samples and more.
You can find the body of the email embedded as an image below (most of it).  The tl;dr version follows: Apple has launched 3 new toll-free help lines for iBooks. Authors in Austria, Norway, and Denmark who are having a technical issue can call in and get help from the iBooks support team. While they're on the phone they'll be able to ask about the new larger images now supported in iBooks; that has been increased from 2 million pixels to 3.2 million pixels.
They also informed us that they are now notifying customers when new versions of ebooks are available (just like apps) and will be giving customers the option of downloaded the updated ebooks. And finally, Apple has added new catalog reports and new documentation on the technical details of the iBooks format.
Apple launched iBooks with the iPad in early 2010 and has slowly but surely been building it up from a joke of an ebookstore into a minor player. They've released 2 major updates for iBooks, first in January 2012 and then again in October 2012. iBooks has spread to 51 countries with the most recent being Japan.