Apple Now Giving Tours of the Torture Room Where They Didn't Catch the iPhone 6 Plus Bending Issue
Apple may not be any more prone to launching bad products than the next company, but their response when caught out by a major design flaw is unusual (to say the least).
News broke earlier this week that the iPhone 6 Plus had a structural weakness around the volume buttons which increased the risk that the phablet would bend.  (I'm not calling it BendGate any more, I promise.)
There's even a video showing just how easy it is to bend an iPhone 6 Plus using only your hands:
After the story broke, Apple responded with the claim that only 9 customers had complained. I for one don't believe that for a second; with millions of iPhones 6 sold the number of bent units would have to number in the thousands.
According to The Verge, the tests include:
Apple was mum on how much the new iPhones can actually take, something it considers a trade secret. It pointed only to 25 kilograms, the amount of weight Apple puts on top of the iPhone's screen to test it for the bends. Next to a machine that does this thousands of times is a small set of weights: this isn't actually the full amount of weight the phone can take Riccio says, just what it can handle while being capable of "bouncing back" to its original form. Even so, there are limits.

…

Along with that three-point test, there's what's known as a "sit test," which simulates the stresses iPhones undergo while in pockets. And not just any pockets, either. There's a test for when people sit on a soft surface, when the iPhone is sat on, as well as what Apple considers the "worst-case scenario," which is when it goes into the rear pocket of skinny jeans and sits on a hard surface — at an angle.
And so they have all that equipment and didn't catch the design flaw? Okay, but I hope I am not the only one with a feeling of deja vu.
The thing about the current brouhaha is that Apple's response reminds me a lot of their response to the iPhone 4's antenna problems in 2010 (again, not calling it AntennaGate). As you might recall, that iPhone model had a novel antenna design that wrapped the antenna around the edges of the iPhone in such a way that if you held it like  a smartphone your fingers would short out the antenna and you would lose the signal.
At first Apple denied the problem, but they later admitted to it and offered a free case to anyone who complained. And then Apple offered tours of their testing facility.
Apple has yet to offer an across the board response to the current issue, but doesn't the response so far remind you of Apple's reaction to news of that earlier design flaw?
The only difference between 2014 and 2010 is that we don't have visual evidence that Apple knew about this issue in advance. The same cannot be said for the iPhone 4, because back in 2010 Steve Jobs was shown holding the iPhone 4 in a very weird way at the launch event: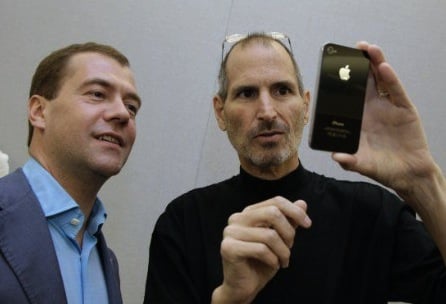 That is not a comfortable grip, not unless your hands are huge. It's also arguably not a natural way to hold a smartphone. While that doesn't prove that Apple knew about that issue, it does make you wonder, does it not?