Baen eBooks Are Now Available via the Nook Store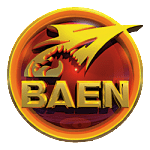 If you are looking for a new source for your SF and fantasy fix then I have some good news for you. eBooks published by Baen, one of the leading SF publishers in the US, are now selling in the Nook Store.
Baen was one of the original ebook pioneers and has been selling DRM-free ebooks direct to readers since the year 2000. Over the past year they have expanded their distribution to include a number of the major ebookstores, including the Kindle Store, Sony, iBooks, and more.
This publisher was launched in 1983 by SF publisher and editor Jim Baen. They are a science fiction and fantasy publishing house that emphasizes space opera, hard science fiction, military SF, and fantasy from authors including Bujold, Weber, Ringo, Asaro, and Moon. Baen has also started republishing older works of well-known authors including Chris Anvil, Robert Heinlein, and more.
I myself prefer to buy Baen ebooks direct from the source so I can take advantage of the monthly deals. Each month Baen offers a bundle of 6 to 8 titles with a price of $18. That is far less than the regular retail of $6 to $10 per ebook.