Bluefire Reader for Windows Ships Next Week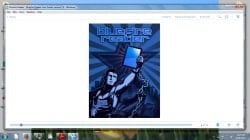 Adobe isn't the only company which is releasing an ebook app in the next few days; Bluefire is about to ship a new version of their respected Bluefire Reader app.
For the past week I have been playing with an early release of Bluefire Reader for Windows. This app has been under development for well over a year, fortuitously giving it a chance to launch into a market where Windows users have fewer and fewer options for reading Epub ebooks.
The app offers all of the customization options and reading features we have come to expect from the leading apps. In addition to line spacing, justification, text size, and margin width, readers can choose from a variety of fonts and color themes, including a night mode.
When reading, the text automatically adjusts to offer a multi-column mode on wide screens (just like the late NookStudy). Depending on the font size and the width of the app window, you could see up to 3 columns of text. As you progressively increase the font size the app automatically switches to a double column and a single column mode.
In terms of annotation, BFR4W offers both highlights and notes. The annotations in a book can be found via the annotations menu, and they can also be exported (much like what Amazon enables with the Kindle platform).
Speaking of menus, there is of course a library menu, and inside each book you'll find a TOC and a book info menu. Each of these menus is based on a book's metadata, so they may not be available for every ebook.
Other reading features include search, a dictionary, bookmarks, copying text, but not TTS. (BFR4W should work with your existing Windows screen reading app but I don't have this feature enabled and can't confirm that detail.) And there is even an option to sync your reading position, annotations, and bookmark with your other Bluefire apps. I have not tested that, though.
All in all BFR4W  is not the most feature rich Windows reading app but it does have a number of advantages over its competition. NookStudy might offer similar DRM support and a lot more annotation options, but it is also tied to the Nook platform and is at risk of B&N deciding to kill it. Bluefire Reader for Windows, on the other hand, does not require that you log in to any server in order to use it.
And of course Bluefire Reader for Windows bests the Kobo and Kindle apps by offering support for Epub. The Kobo app can't read ebooks bought elsewhere, and Amazon continues to leave out any auto-conversion ability from the Kindle app (its deceased relative, Mobipocket Reader for Windows, had this ability).
This is an okay app, and I plan to keep it around for the inevitable EOL of NookStudy.  I won't be switching to it immediately, but that is largely because I am someone who holds onto apps until they are dead before I abandon them.
On second thought, I notice as I get to the end of the comparsions that Bluefire Reader for Windows loads significantly faster than NookStudy. If I switched now it would save me the time I will spend waiting for NookStudy to wake itself up.
Decisions, decisions.