B&N Changes Nook DRM Key, Further Proving That They Don't Want Your Business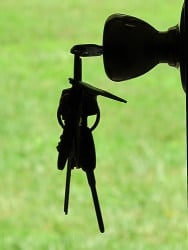 Hot on the heels of the news that B&N has cozied up to the vanity press Author Solutions comes a new report that the retailer has changed how it is implementing its DRM. A reader has informed me, and other sources confirm, that Barnes & Noble has changed how it generates  its encryption keys.
Ever since B&N launched Nook in 2009, the retailer has based the Nook DRM encryption keys on a customer's credit card number and name. That technical spec had been inherited from eReader.com (which B&N got when it bought Fictionwise in early 2009) and enabled users to load their ebooks on to any app or ereader which supported a certain type of Adobe DE DRM (Mantano, for example).
But now B&N is using a new method for generating its encryption keys. I can't yet tell you what the new method is (it looks to be random), but I can report that the actual DRM has not changed, just the method for generating the encryption key.
If you have a Nook app, you can still download and read your ebooks (for now). But if you want to protect your ebooks from B&N's future bungling by removing the DRM, that's going to require a little additional work.
To start, you'll need to download, install, and activate NookStudy (get it here). You have to use it to download Nook ebooks. After you've downloaded a Nook ebook, NookStudy will have a copy of the new encryption key. (And once you have the key, you can use the usual workaround to bypass B&N's block on downloading your Nook ebooks.)
You can find the key in one of NookStudy's log files, and get this: NookStudy stores the key in plain text.
Yes, B&N may lock up the Nook ebooks you buy but they also literally hand you the key so you can extract the ebooks and strip the DRM.
I know that the concept of DRM is flawed due to the fact that the end user has to be able to decrypt the DRMed content, but this is the first time that I have ever encountered a company giving me the encryption key in plain text.
For more detailed instructions on how to get the key and use it, read the help file for the Apprentice Alf DeDRM plugin. I uploaded a copy here.
Note: I've tested the help file as far as finding the key. It is accurate.
image by frankieleon