B&N Launches Nook for Web
For the longest time the ebook market has been trending away from requiring ereader, and now it's going a step further and giving up on the need for readers to even install an app. Barnes & Noble has just announced Nook for Web, an HTML5 based reading app.
They're calling it "an innovative and free new browser experience" but it's only innovative so long as you ignore the fact that many other reading platforms had it already: Kobo, Amazon, Coursesmart, Ibis, and even more from a list that's so long I cannot even recall all the names on it.
But leaving the hype of the press release aside, this is good news for readers. We now have another option for getting and reading free ebooks with minimal work involved, and Barnes & Noble did steal a march on its competition by making it work on most of the major web browsers: Internet Explorer, Chrome, Firefox, and Safari, with the exception of mobile browsers. B&N says that support coming this fall for Internet-enabled tablets, smartphones and other mobile devices.
B&N is celebrating the launch by offering 6 titles which you can read and download for free:
Map of Bones by James Rollins
The Boxcar Children Summer Special by Gertrude Chandler Warner
Brave by Tennant Redbank
Perfect Island Getaways by Patricia Schultz
Sex and the City by Candace Bushnell
The Vow by Kim Carpenter
I've looked through my Nook library, and so far as I can tell all the titles have this new reading option enabled. Of course, I only have a handful of ebooks from B&N, so I might not be seeing ones that are restricted. Features are limited to just changing the font size; highlighting and other note-taking aren't enabled yet.
All my Nook ebooks show up with the following button: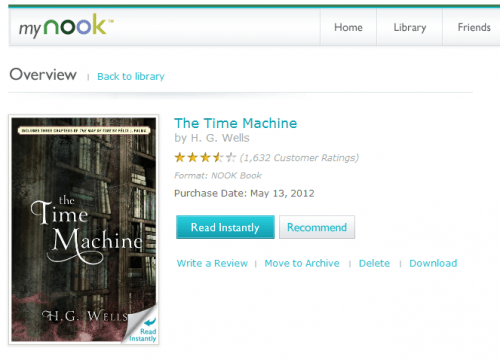 The US ebook market is getting more and more competitive every day with the majors ebookstores trying to match each other feature for feature and service for service, but in spite of everything B&N and Kobo can do Amazon is still in the lead. I'd like to see someone match Amazon on their email conversion service, Kindle Cloud Storage, and other services I cannot do without.
Did you know I'm now providing tech support for 2 different relatives who own ereaders? I made them both get Kindles, because that way I can log in to their accounts and do the tech stuff without having to explain it. I like that, and it's something that cannot be done nearly as well on Nook or Kobo.