Bowker Now Claims 625,327 US Indie Books Published in 2015, and Other Meaningless Factoids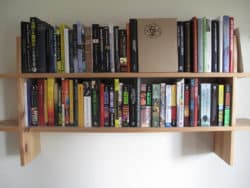 When Bowker released its annual report (PDF) on ISBNs used by indie authors in the US in 2015, it didn't tell us anything useful besides the fact that indie authors still weren't using ISBNs for their ebooks, just for their print editions. (This is why I didn't cover the report, but instead used it to write a more important story on the decline of Author Solutions.)
The report showed that 153k ebooks had ISBNs, and 573k print books, and that meant that at least 400k print titles either did not have a matching ebook version, or that the ebook version lacked an ISBN.
Given that it is not uncommon for ISBNs to be issued for a section of a book as well as the whole book, and that we already knew that indie authors regularly don't use an ISBN on their ebooks, the ISBN count doesn't actually tell us anything useful.
And now our collection of useless data is slightly more complete.
PP revealed on Tuesday that Bowker had crunched its data again and found that there around 625k unique titles with ISBns last year (meaning, if a title had multiple ISBNs, it was counted only once).
There were at least 625,327 self-published books published in the United States in 2015, according to Bowker, the US agency for the administration of the ISBN.

We believe that this is the first time such a number has been known. It is, to the best of our knowledge, the most authoritative count of indie titles published in a single year.

It does not include indie works that don't have ISBNs registered to them. But to our knowledge, it now stands as the single best indicator of the size of the discernible indie market in the USA.
I have to agree with that last point; while this data has no use it is still the least useless of all the data on the size of indie publishing.
But I have now idea what Porter is getting at with the first point; while it is generally true, Bowker's data doesn't support that conclusion.
image by Ole Husby