Why Chromebooks are outselling iPads in the school market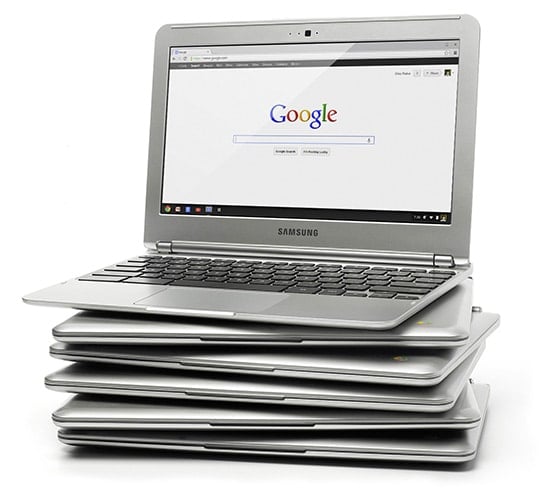 Many bloggers have been writing lately about recent estimates which suggest Chromebooks are outselling iPads in the school (I broke the news 4 months ago), but few have been trying to explain why it's happening.
eWeek is perhaps the one exception to this; they looked at some of the more obvious causes:
One big factor is price. At starting prices ranging from $159 to $199, Chromebooks are more economical to purchase than an iPad with comparable functions. "Price is certainly a big factor. The education sector is highly, highly price-sensitive," Singh noted.

Chromebooks are also fairly simple to manage, a huge plus for cash-strapped schools. Technologies like Google's Web-based management console for Chromebooks have made the devices easy to set up and manage for school administrators. Using the console, schools, for instance, can configure and push down a standard image for the devices or customize and change settings across multiple units relatively easily, the IDC analyst said.

Integrated keyboards are also another big reason many schools appear to be choosing the Chromebook over the iPad, Singh said. While touch-screen devices may be suitable for younger students, older ones typically require a keyboard for many of the tasks they are expected to perform at school.
While all that is true, there's an underlying question which eWeek didn't answer. Why is Google making a product schools want, and not Apple?
Remember, there was a time when Apple dominated the academic market. When I was in high school in the 1990s, all of the better computers were Macs.  While there were a number of PC computer labs, those machines were running Win 3.11 (if you were lucky) and their only recommendation was that it was very easy to fudge around with DOS (I am so lucky the statute of limitations has run out).
But 15 years later, most of the computers in schools run Windows, with Apple products coming in second (and losing ground as Chromebook sales outpace iPad sales).
Did you ever wonder why that's happening?
How did US schools go from this:
to this:
According to David Sobotta, it's because Apple stopped listening to their customers. He draws on his years as an Apple manager to write over on his ApplePeels blog that:
One of the biggest things that changed after Steve came back was how Apple interacted with its higher education and large business customers.  …

Much of this changed when Steve came back.  The first to go were customer meeting with publishing professionals.  Steve did not enjoy customer meetings when he was not on a stage.  While the higher education meetings continued, it was clear that Apple was not listening seriously.

The Cupertino briefings kept going for business, higher education, and K-12 customers but the amount of useful planning information that came out of the meetings declined.  It was not unusual for Apple to pay the way of some K-12 executives to come to a Cupertino briefing but the true education partnerships were gone.
Sobotta goes on to detail the faults he sees in Apple's current product and services, but IMO many of the points he raises stem from Apple no longer trying to fill a customer's needs. That includes the way that Apple ties too many services to its own hardware:
Google has always abstracted the data from the hardware, Apple has always tied the data to a device in the hopes that you will buy a new one.

You can use Google Docs from just about any device including Macs of all stripes.  Just try using Apple's cloud services from an Android device. Of course I have found Apple's cloud apps are often hobbled like the inability to do notes in Pages or presenter notes in Keynote.  Actually you cannot even upload files from an old Mac to Apple's own Cloud drive.  You have to use DropBox.  How many schools have you visited where old Macs and in fact any old computers that they can find are part of their educational computing program?
It's almost as if Apple is afraid that you won't buy their nifty new hardware if they don't force you to do so by tying all of the web services to it.
And I think Apple's not listening to customers extends to even the iPad.
What does Apple think would make a great educational platform? The iPad. What are schools buying? Chromebooks.
To be honest, I'm probably overstating the trend of Chromebooks replacing iPads, but it is one I expect to increase over time. At last count Apple had sold 13 million iPads to schools since the first model launched in 2010, while schools have bought (at best) a few million Chromebooks.
But as those 13 million iPads grow old and are replaced, I fully expect most to be replaced by Chromebooks which cost a third as much, are twice as useful, and are much easier to deploy and support.
image by kjarrett, flickingerbrad