Citing Abuse, New York City Kills Web Browsing on Public Internet Kiosks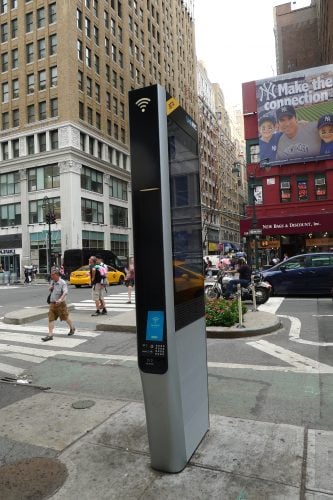 Coffee shops have a well-known problem with squatters taking over a table and using the shop's free Wifi all day, so guess what happened when NYC deployed four hundred Wifi hotspots which offered free web browsing on a 9″ tablet-like screen?
People are squatting and browsing the web all day.
And now the spigot has been turned off.
This has been widely reported as the service getting cut off because the homeless were watching porn, but what LinkNYC actually announced yesterday was:
We also know that some users have been monopolizing the Link tablets and using them inappropriately, preventing others from being able to use them while frustrating the residents and businesses around them. The kiosks were never intended for anyone's extended, personal use and we want to ensure that Links are accessible and a welcome addition to New York City neighborhoods.

Starting today, we will be removing web browsing on all Link tablets while we work with the City and community to explore potential solutions, like time limits. Other tablet features—free phone calls, maps, device charging, and access to 311 and 911—will continue to work as they did before, and nothing is changing about LinkNYC's superfast Wi-Fi. As planned, we will continue to improve the Link experience and add new features for people to enjoy while they're on the go.
Do you know what's really surprising about this?
I'm not shocked that the free web browsing has been turned off; I'm amazed at all of the problems which should have been anticipated and were not.
I wasn't surprised that some were watching porn on the tablets, but I was shocked that porn sites weren't blocked by content filter until after the press reported on the story.
I was also not surprised by the squatters or that some were monopolizing the services; that could have been anticipated by anyone who had spent fifteen minutes thinking about how public Wifi networks are abused, or outlets in publicly-accessible spaces.
A lot of businesses (including everyone from small diners to Barnes & Noble) take care to hide, cover over, or disable electrical outlets. They don't want people taking up residence at the outlets and monopolizing them. Those same businesses also often impose restrictions on their public Wifi networks; Panera, for example, imposes a half-hour limit on their Wifi network during peak hours.
One would have assumed that similar controls had been built into the LinkNYC service, but apparently no one involved in running this project has any experience with public resources like Wifi hotspots or had bothered to read a single story about homeless "stealing" electricity.
Folks, it  is a simple fact that people who are homeless have so few resources that they value internet access, or something as simple as keeping a smartphone charged, more than those of us who know where our next charge is coming from.
That detail should have been the deciding factor in the entire LinkNYC program, and affected everything from the hardware to the content filters.
Instead, it looks like no one thought this through, leaving LinkNYC scrambling to respond to each incident as it blows up in their faces.
Would anyone care to predict the next oversight?
Thanks, GBM, for the tip!