Comparison Video: Dasung Paperlike E-ink Monitor, New vs Old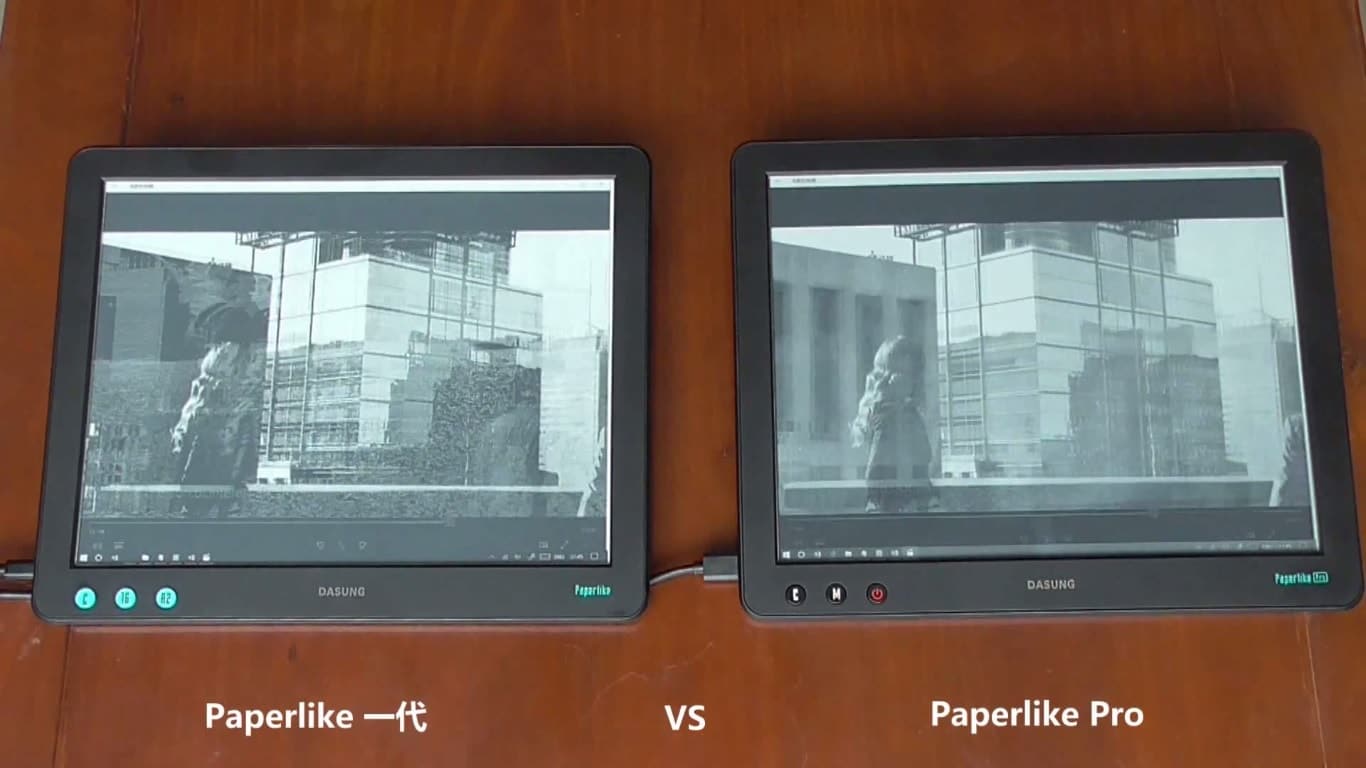 When Dasung announced the Paperlike Pro E-ink monitor a couple months ago, they said that it was significantly faster than the previous model. As you can see in the following demo video, that isn't strictly true.
As the only person who owns both a Paperlike and a Paperlike Pro, I thought it would be useful to show how they compared.
The newer Pro model both is and isn't faster. When both units were in the 16-shades mode, it was a toss up which was faster. T
his might not be clear in the video, but I have been using both Paperlikes for a couple weeks and it was pretty obvious to me.
The Pro does have one advantage, though. Its drivers support a third display mode called Floyd. This is a reference to Floyd-Warshall, an algorithm which explains how to find the shortest path in a weighted graph.
That doesn't really make any sense here, but what it means for this screen is that the drivers are finding shortcuts to speed up the screen refresh by trading off quality for speed. In many ways it is an improvement, but as with any tradeoff there is a downside. But since the new Floyd mode is optional, I think it is a net positive.
BTW, I am going to post more videos (including videos using apps for color-blind users), but if I have sold you on the Paperlike Pro, you can buy one at Sol Computers.
And here's the script I typed during the video:
Greetings. You are watching a demo video for the Dasung Paperlike E-ink monitor.
The unit on the left is the older model, while the one on the right is the recently released Paperlike Pro.
I thought it would be best to conduct a silent demo so that you could get the most out of the experience.
Let's see how this works.
First, the specs.
Both models have a 13.3" E-ink screen (resolution 1200 x 1600). The Pro connects to my laptop over HDMI (plus USB for power) while the older model uses simply a USB cable. They have different drivers, with different features, but are otherwise quite similar.
Both models can display either a black/white mode (A2) or 16 shades of gray. The Pro also has a new mode called Floyd.
Here, let me switch so you can see the new mode.
Floyd is a little faster because it uses a new algorithm to make minimal changes to what is on the screen.
The older 16-shade mode has to refresh the screen more often, and that slows it down.
Let me show you a demo.
Floyd is an improvement, but there's a tradeoff in terms of image quality.
Er, Floyd is faster but sloppier.
I have had the Pro for a couple weeks. It is pretty good for things like typing but I don't find it usable for basic web browser.
That is at least partially my fault; I think it would be more useful if I would seek out grayscale alternatives to my usual apps.
Let me explain it a different way – if you get a Paperlike, you should also spend time researching apps for color blind users. Those apps will have ways of translating the color ques into grayscale patterns that would work better on an E-ink screen.
Or at least that is what I believe is possible. I plan to look for those grayscale apps before posting my demo next video.
Thanks for watching.