Infographic: Cost/Benefit Analysis of the iPad Vs Five eReaders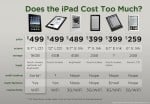 Here's something fun.
I was doing some Googling this morning when I came across the following infographic. It compares the iPad with 5 ereaders, and offers a basic comparison analysis based on a few technical details.
The Kindle is not included, but I want you to see which devices were. From left to right we have the iPad, Fusion garage Joo Joo (never released), the Kindle DX, Sony Reader PRS-900, Irex Iliad, and the original Nook.
This infographic is over 3 years old, and based on the time stamp it was made very shortly after the launch of the iPad. But I thought it was worth posting just to highlight just how much has changed in the past 3 years.
The Joo Joo never made it to market, Sony gave up on ereaders and instead focused on reading apps on smartphones, Irex went bankrupt, and the Nook is on its last legs. The only ereader maker mentio0ned in this infographic which is still around is Amazon, and these days they are much more interested in tablets now than in ereaders .
In all honesty, in January 2010 I would have predicted that Sony, Irex, and Nook were going to be around for the foreseeable future. I didn't think Irex was terribly competent at making devices, but then again I also didn't think they would implode into bankruptcy.
But in spite of all the changes, some details remained the same. Amazon still dominates the ebook market, agency pricing has come and gone, and Amazon is still virulently hated by the legacy publishing industry. Fun times.
BTW, if you're wondering why Kobo isn't included that is because in January 2010 they had yet to release their first ereader. Kobo was still calling itself Shortcovers a bare 2 months before this infographic was created, and only announced their first ereader in March 2010.
So what do you think was the most significant change in the past 3 and a half years?