Cybook Ocean Goes up for Pre-Order, Also Cleared the FCC (video)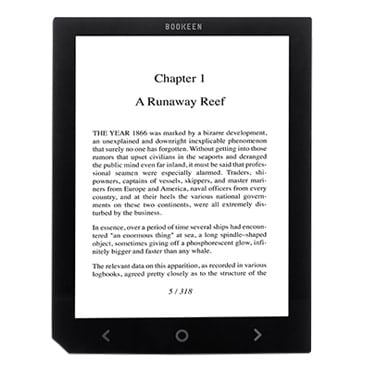 Bookeen's new ebook reader went up for pre-order this week, and is scheduled to ship on 24 November. The Cybook Ocean sports an 8″ epaper screen, and thanks to the FCC filings I can also confirm the listed specs.
This ereader went through the FCC back in May (the 6″ Muse cleared the FCC this week), and based on what I can see in the internal photos (PDF) I can say that it is running on an 800MHz Freescale CPU with 128MB RAM, Wifi, and a microSD card slot hidden under a flap on the rear of the device.
The Cybook Ocean has an 8″ epaper display with a screen resolution of 1,024 x 768, a capacitive touchscreen, and a frontlight. And according to the listed specs, the Cybook Ocean ships with 4GB internal storage and runs Bookeen's proprietary readign software with support for Epub, PDF, and other formats.
It's listed for $189 on the Bookeen website, and yes you can (theoretically) order it from the US. Unfortunately, Bookeen's payment processor has repeatedly declined my credit card so in effect I can't order it.
Until Bookeen gets that fixed I will have to content myself with the Cybook Ocean promo video:
It's a cool looking ereader, but I'm not sure it justifies the high price. It's about in the same price range as the Kindle Voyage, Kobo Aura H2O, Pocketbook Inkpad, and the Onyx Boox T68 Lynx.
All of those devices have a sharper screen, faster CPU, and other features which set them apart as premium ereaders. The Cybook ocean, on the other hand, has a relatively low resolution screen and a slower CPU.
It's going to be interesting to see how the Cybook Ocean does, given the fierce competition.
FCC (Z9C-CYBON1F)
http://mobile.hdblog.it/2014/11/06/bookeen-nolim-cybook-ocean-ccc/