Did Amazon Fix the Porn Problem in the Kindle Store?
NBC News reported earlier this week that Amazon is pitching porn to teen girls:
It has been nearly four months since Martha Welter first alerted Amazon.com that a search for "teen books for girls" yielded scores of pornographic books on its website.  Not only are the books still there, but dozens more have been added, many of them more graphic than before. 

…Welter, a frequent Amazon shopper, began her search by typing the word "teen" into Amazon's search box. A drop-down menu suggested a search for "Teen Books for Girls," so she clicked on it, and then looked for the newest books available.

"I go through the first page, and that's fine," she said. "And I go to the second page, and there I find adult picture books — adult, pornographic picture books."

And not just a few:  NBC5 Investigates replicated Welter's search at the time, and found that 91 out of a total of 140 books featured as Amazon's newest "teen books for girls," were, in fact, adult picture books, most with graphic covers that were impossible to avoid while paging through the search results.
As shocking as this news story may be, I have to say that I am puzzled. I tried to duplicate the search results and I cannot see any pornographic ebooks.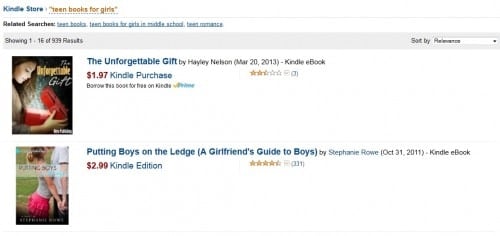 All of the Kindle ebooks that I can see look like the usual YA fiction. Did I miss something, or has Amazon fixed the problem?
I wonder if perhaps the problem was due to Amazon showing customized search results, and their suggestion algorithm was on the fritz? That would explain why I can't see them but the reporter could.
Could everyone try the search for themselves and see if the the porn shows up?