EA Sudoku now available on the Kindle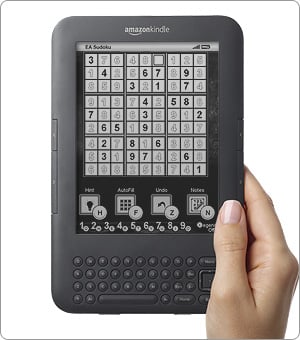 It's that time again, folks.
Amazon just announced a new app for the Kindle: EA Sudoku. This would be great (if not for the fact that you already could play Sudoku on your Kindle
). Here's what Amazon had to say:
EA Sudoku contains thousands of built-in puzzles, as well as the ability to enter and play a puzzle from your favorite newspaper or magazine in "Newspaper" mode.With five difficulty levels from "Easy" to "Insane," Sudoku offers plenty of fun for Sudoku players of all skill levels. Built-in game features let you make "Notes," "Undo" moves, and apply "Error Checking." If you get stuck, you can use the "Hints" feature for help or use "AutoFill" to display all notes on the game board. You can even track your game stats to see how you progress over time.
Amazon