Early User Reports Suggest That iBooks for OSX is Unstable and Only Semi-Functional
OSX Mavericks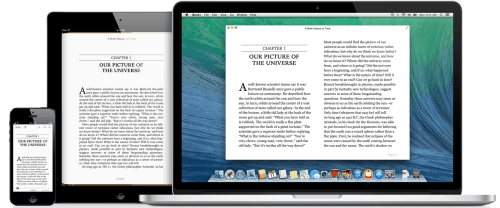 debuted yesterday with a number of new features, including the long awaited iBooks for OSX. This app, which had been teased back in May, is unfortunately not nearly as polished as one might have hoped.
The first user comments on Twitter are almost uniformly negative, with users noting missing features, bugs, and generally malfunctioning behavior.
Here are the highlights:
iBooks can't read PDFs:
iBooks for OSX organizes PDF files in your library, but can't open them: it launches Preview. Meh 🙁

— Marco Sgnaolin (@daliz84) October 23, 2013
The cool-looking pop-up footnotes don't work:
ready for fun #eprdctn folks? those fancy iBooks specific pop-up notes you made for iOS iBooks? Yep, they're broken in iBooks for desktop 🙁 — Derrick Schultz (@dvsch) October 23, 2013
Basic support for Epub is only semi-functional:
Early iBooks desktop observations: FXL is buggy, reflowable is TOO BIG. So not that useful after all, I think. #eprdctn — Laura Brady (@LauraB7) October 23, 2013
What iBooks for OSX does to images is enough to make one cry:
@lizcastro Unreliable picture of the layout. See: pic.twitter.com/y3Uq3MFg7u

— Laura Brady (@LauraB7) October 23, 2013
This one needs something of an explanation, so I have embedded the image at right. You are seeing a mash-up of the same ebook open in the iBooks iPad app and in the iBooks OSX app. As you can see, the OSX app fails to scale the image correctly and instead splits it between 2 pages.
And apparently it's not hard to make the app crash:
@LauraB7 LOL. Early ibooks desktop observations… I was able to make it go belly up with the first FXL interactive book I threw at it….

— Jean Kaplansky (@JeanKaplansky) October 23, 2013
All in all, iBooks for OSX is very much a 1.0 release so you would be well advised to avoid it for the time being.
And given the DRM situation I tend to think one should avoid the app permanently. Liz Castro tried iBooks for OSX and earlier today she raised some serious concerns about how Apple is handling accounts:
When I opened it up, it immediately asked me to sign in with my AppleID—it feels like you can't go anywhere these days without identification. I find it a bit oppressive, especially since I wasn't on my own computer. And though it let me log in, I couldn't download any of my purchased books because I had already authorized five computers and this wasn't one of them. So I went and deauthorized them all and then reauthorized this one only to be warned that if I downloaded books from this particular AppleID account, I wouldn't be able to download items from a different AppleID account (e.g., my daughter's, who owns the computer) for 90 days. I didn't think she'd be very happy with me, so I didn't do it. I tried creating a separate user and then opened iBooks again, but got the same error. So I opted not to download any of my already purchased books.

This was frustrating to me. I should be able to access my purchases on any device to which I log in, whether or not someone else also has an account there. This means iBooks doesn't really work in the cloud—it only works on your personal devices on the cloud, not at the library, or at the vacation house you rented, or on the computer you borrowed from your daughter.
I can't imagine what Apple was thinking when they came up with that idea.
Apple is entitled to make their own decisions on DRM issues, but surely I can't be the only one can see how this rule renders the app completely useless in many academic situations. A computer lab full of Macs might as well not have this app at all given that you cannot switch users.