Feedly Announces Publisher Kit w\ Better Branding, Discovery, and 100% Ad Revenues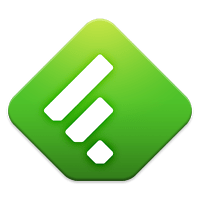 Feedly has announced its response to Apple News and FB Instant Articles, and much to my surprise it looks like almost only no one has noticed.
In a blog post dated Friday, Feedly posted a list of nine steps that web publishers can take to better format their RSS feed so that Feedly's tens of millions of users have a better reading experience.
Some of the steps (website and feed metadata, for example) are obvious. Others, like proper formatting and setting a featured image in every post, web publishers should be doing just because its good practice.
But then there are the Feedly specific options that have this blogger sitting up and taking notice.
For example, Feedly has posted instructions for how a web publisher can have their logo and an accent color displayed when a user is reading one of their posts:
By improving your brand's presence on feedly, we can make your readers feel more at home. When you specify an SVG-formatted logo and an accent color we will place your logo on each of your stories and change the colors of hyperlinks throughout your content to your chosen accent color.
That is one of the details I mentioned when I first reported on the new options a couple of weeks ago. I was looking forward to it, and I'm also looking forward to the new discovery options and the Google Analytics integration.
Yes, Feedly is going to let web publishers count the posts read in Feedly:
For many publishers, feedly can be a black box of sorts. You can click through and see the number of readers you have, but not much else. We have spent the last few months building an integration between feedly and Google Analytics so that you have more visibility into your feedly readership.
The posts will be tracked based on the canonical URL, meaning that web publishers will be able to count each time a post is read in Feedly as another page view on the website.
Of course, the web publisher could also set up a new GA number to track the Feedly traffic separately; it's up to us.
All of the above options have to be added to a website's code manually, so web publishers really do have final say on which ones will be implemented on our respective RSS feeds.
Edit: No, I was wrong. The Google Analytics option is part of the Publisher kit mentioned below.
Just like we have the choice to use or not use Feedly's advertising option.
Feedly is currently testing an ad option similar to the promised ads in Apple News or Instant Articles.
The ad option is part of the (beta) Publisher Kit, and not a manual option like the features mentioned above. According to Feedly:
We want to make sure that publishers are able to monetize their loyal feedly audience. The first option we are offering toward this goal is to allow publishers to embed a 300×250 DFP ad slot in the feedly stories – after the second paragraph. Feedly will take care of the technical integration and you keep 100% of the ad revenue.
That's a great start, but I for one would prefer more options.
That ad slot is going to be a big distraction on the screen of your mobile device, so I'd much prefer to put a smaller ad before or after a post where it won't make the reader as unhappy (*).
But I was told Feedly went with that ad size and placement for a reason. Feedly CEO Edwin Khodabakchian told me that they chose that ad size because it matched what Facebook and Apple were offering for their respective services.
He also said that user testing showed that putting the advert after the second paragraph was the least annoying option, and that later versions of the Feedly Publisher Kit will let publishers choose between inserting an advert in the post, or adding it to the end of the post (or not have the advert at all).
But even without the placement options, Feedly's advertising option is a lot more appealing to this  blogger that either FB Instant Articles or Apple News. With one, I have to pray that Facebook will show my posts to someone, while with the other I have to ask Apple to let me in.
On the gripping hand, I have around 6,000 readers in Feedly. That's small compared to the major publishers but it's a larger number of readers than I have in either Apple News or Facebook Instant Articles. Just being able to count the page views will be a nice bonus, and the chance to make money will always be appreciated.
P.S. Coincidentally, many blog themes, including my new theme, will let web publishers insert an advert after the first or second paragraph. I will not be using the option, but it is there.