First Impressions: The Pocketbook 650 Ultra is a Prime Candidate for Worst eReader of 2014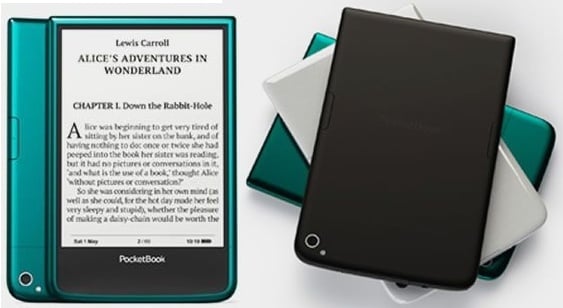 When the Pocketbook Ultra leaked earlier this year I was thrilled to  see a device maker exploring the idea of combining an ereader with an E-ink screen with a camera which could convert images  to text. Finally, I thought, there was a ereader which could not only add notes to a file but create them from scratch – just like a tablet or smartphone.
Alas, the actual device does not come even close to meeting the expectations engendered by its price tag, nor is it capable of fulfilling all of the features listed on the product page. I've only had mine out of the box for a couple days now, and I deeply regret spending so much on a device that can do so little.
So what's wrong with it?
To start, there's the screen and frontlight. If you look at the product page you'll see that the Pocketbook Ultra has a 6″ Carta E-ink screen with a capacitive touchscreen and frontlight.
That sounds nice, but what the product page won't tell you is that the screen is noticeably more gray than the Carta E-ink screen on the 2013 Kindle Paperwhite. And to give you an idea of just how bad this screen is, I can also tell you that it is grayer than the 6.8″ Pearl E-ink screen on my Kobo Aura HD.
I'm not sure it's visible in the image, but it is obvious to the naked eye. What's more, I am not the only one to think so. I was warned about the screen, among other issues, by Chalid of AlleseBook.de. (He helped me buy it after trying to talk me out of the purchase.)
It truly is bad, and that's not the only issue. The frontlight is also a fail. it's noticeably dimmer and fuzzier than the frontlight on either the KPW2 or the Aura HD. The consistency of the light is also noticeably uneven when compared to the white frontlights on the older ereaders.
Folks, I paid $240 for this device, and it has a screen which comes in a distant second to the screen on a $120 ereader released last year. This is simply not acceptable.
And then there is the software. I can't cover all of the issues without turning this into a multi-thousand word post, so I will merely discuss the single biggest deficiency.
The Pocketbook Ultra's most vaunted feature, its ability to take an image of text and convert it to actual text, simply does not work. Oh, it has a 5MP camera with flash, and it can take a passable image. But it cannot actually convert that image to a text file.
Here is are a couple images I took with the Pocketbook Ultra. They're not great but if you zoom in they are legible. (If I had used the Flash they would have been somewhat more legible, but the reflection of the Flash would have been caught in the image.)
And here is the what I got out when I converted similar images  to text:
-, I cud :.'.'-:.- uh «\ pl –lurm.Uu|h'uni-'-.
?u–n;h -.'.a 0| 2| n Izuu Mutlnd hum

72- imnhlll .l|- mu .0-1″-un||?|'|\ v r–ugh!
4' 7- in I'. Ir n .' .\u-v, uh! ?nk luv" 'Id Lu
~ ' kw! ~-un:u- -n'm,.' '. 'Id!–Iht
' W14! — v-'I .n -'- .*grJ'y [uh . an as

y'?|PI'I u'- -r-.- 611- my sins: MI' um!

, 7 N ' az?buul cI:l";?-
J. I Lhgudnul hid 'I|ll"|lIM'b§ . . _
I swear to Cthulhu that is what the Ultra gave me when I was done.
Folks, I am only beginning my review of the Pocketbook Ultra, and I can tell you that the hardware design, screen quality, and software features all disappoint, leading this blogger to nominate the Pocketbook Ultra 650 for the title of Worst New ebook reader of the year.
I strongly urge you to buy something else. This ereader might be priced higher than its premium-priced competitors, but it does not even come close to matching their quality or abilities.