Four-Inch iPhone Tipped for Early 2016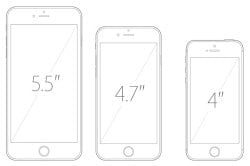 Rumors have been circulating for awhile now that Apple is planning to launch a smaller iPhone, and according to one analyst it's going to launch next year.
MacRumors has the scoop on KGI Securities analyst Ming-Chi Kuo and his new research report. Kuo predicts that Apple will release a smaller iPhone early next year.
Or as Kuo put it:
As there is still demand for a 4-inch iPhone, we believe Apple will upgrade this product line. Because the iPhone 5s is more popular than the iPhone 5c, we think Apple is likely to launch an upgraded iPhone 5s. We predict Apple will mass-produce this new 4-inch iPhone in 1H16 with metal casings. In order to make the current iOS 9 or next-generation iOS 10 run smoothly, Apple may adopt an A9 chip for this new phone.
He believes the iPhone will not include 3D Touch support (this is intended to differentiate it from the iPhone 6s and 6s Plus) and that Apple could sell 20 million to 30 million of the 4″ iPhone 6 Minus model next year.
Kuo is also expecting that Apple will refresh the iPhone line in the third-quarter with two new iPhone 7 models. He says both will have the A10 chip, and that the larger size will also have more RAM (3GB vs 2GB).
So is he right?
Well, Kuo has a better than average  track record with these kind of things, but as with any Apple rumor the sensible move would be to wait for a verifiable leak before getting our hopes up. What we have here is a prediction, and not a leaked component, schematic, or photo, and so it need to be taken with a grain of salt.