Franklin launched the AnyBook Reader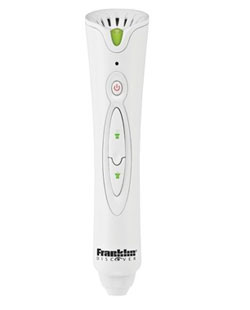 Franklin, a maker of educational products from apps  to electronic dictionaries, have announced the AnyBook Reader. This is a new product that is going into an old niche.
It's a very simple device about the size of a tv remote. The Anybook consists of a microphone, speaker, and a sensor. It's entirely self contained and runs on 2 AAA batteries. Retail is $39 (15h recording time) and $59 (60h recording time).
Here's how it works. While in record mode, scan one of the included stickers and record a message. When you put the Anybook in play mode, you can scan the sticker again and listen to the recording. (I said it was simple.)
It doesn't actually read; instead it plays an MP3.