Fujitsu and Sapporo Shirakaba-dai Hospital are testing a new epaper based patient tagging system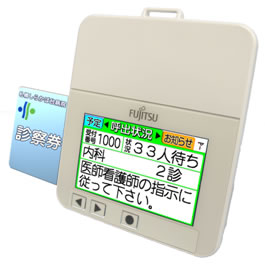 Last July Fujitsu announced a new Patient Guidance System which was based on clip on badges with color epaper screens. That system has just been deployed to Sapporo Shirakaba-dai Hospital in Sapporo, Japan.
The idea here is that the badges will direct patients to their next appointment, and help guide them from examination rooms to diagnostic testing rooms. The badge is integrated into the hospital's electronic medical record system, and hopefully detailed information is going to be delivered to the individual patient's badges.
The badges have a color epaper screen but they also have a wireless component. I'm not sure how that is supposed to reduce battery life, but Fujitsu boasted that the badges have impressive power savings, even lasting a full week on a single charge.