Galaxy Tab 3 Brings Samsung's Smartphone Aesthetics to the Galaxy Tab Line
Samsung just unveiled their latest Android tablet, the Samsung Galaxy Tab 3. It's a slimmer replacement for its 7″ predecessor which will be offered in Wifi-only and Wifi+3G models.
The Galaxy Tab 3 7″ clearly inherited more than a few design characteristics from Samsung's smartphones but it doesn't have significantly better specs that the Tab 2. The new tablet is running Android 4.1 Jelly Bean on a 1.2GHz dual-core CPU, only a slight step up from last year's Galaxy Tab 2 7.0.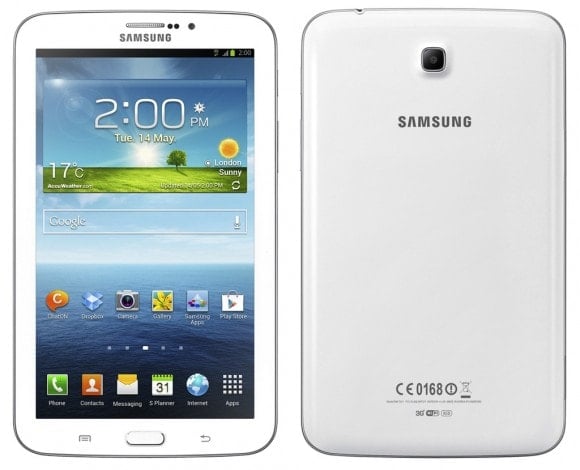 The new Galaxy Tab 3 also has a screen resolution of 1024 x 600 (same as on the Galaxy Tab 2 7.0), 1GB RAM, 8GB or 16GB of Flash storage, a microSD card slot, a pair of cameras (3MP and 1.3MP), A-GPS, g-sensor, and GLONASS.
The Wifi model will weigh in at 302g and will ship in May. It will have both Bluetooth and Wifi a/b/g/n (2.4/5GHz) with channel-bonding and WiFi Direct support. The slightly heavier (306g) Wifi+3G model will have quadband HSPA+ support (850/900/1900/2100) as well as Wifi and Bluetooth and is expected to be released in June. Samsung has not said exactly where they plan to sell it.
Both models have a bevy of sensors and carry a 4Ah battery, but the Wifi+3G model also has a startling addition.  The spec sheet lists a proximity sensor which I assume is intended to turn off the screen when you're holding the Tab 3 like a smartphone.
Don't look now, but I think Samsung just announced a 7″ phablet. Given that the design was clearly inspired by Samsung's smartphones that should probably come as no surprise.
Some months back Mike Cane predicted that Samsung would kill the 7″ tablet market that they created but it looks like the prediction didn't quite come true.  Instead of abandoning the 7″ tablet Samsung decided to turn it into a phablet and effectively merge their smartphone and tablet lines into a single product family. Given the rising popularity of phablets and the overcrowding of the tablet market that was a smart move.