Google Adds "Buy eBook" Options to Book Knowledge Panels, But Leaves Out Kindle
Google frequently shows adverts called "Knowledge Panels" to the right of your search results. They're intended to be a definitive unbiased source of information on a topic, business, or a book, but sometimes Google's own corporate biases slip through.
The SEM Post brings us the news that Google has added buy buttons to the Knowledge Panels displayed next to book search results:
Google has launched new "buy e-books online" feature in the Google knowledge panel for books.   These first showed up for book related searches on Friday morning.

The most interesting thing about these is that they seem to be organic results and NOT paid.  They do not have a sponsored notation next to them.

The organic book buying options are all for ebooks and they show iBooks (Apple), Barnes & Noble, Google Play and Kobo.  What is noticeably absent however, is Amazon.

This also appears when you search for books on desktop as well, in a slightly different format.  Instead of showing icons, it shows tiny favicons with the company name in a list style.
Here's one of the adverts next to the search results. Do you see what's missing?
If your answer was that there is no link to the single largest print and ebook retailer, you win a prize.
Google includes links for Kobo, iBooks, B&N, and Play Books but has left out the one retailer which users are most likely to buy books from.
You can even search in Silk on a Fire tablet and Google still won't show you a link to the Kindle Store: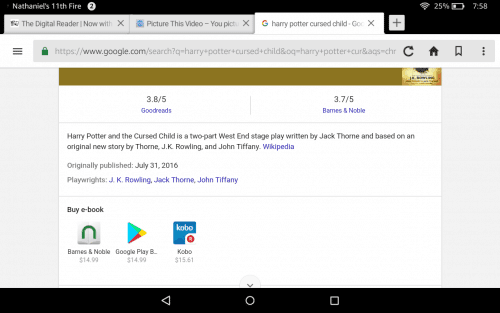 The above screenshot is especially amusing because you can't read an ebook from Google Play on a Fire tablet without either illegally stripping the DRM or installing several pirated Google apps, and yet Google still links to its ebookstore and not the Kindle Store.
Google is snubbing its biggest competitor, and that can't be a coincidence.