Google Launches Distraction-Free Reading Mode for Chrome, But It's Not Worth Using
Spend enough time online and you'll come to appreciate the distraction free reading mode offered by some web browsers (Silk, Safari, etc) and some plugins.
Chrome doesn't officially offer this type of feature, but a member of the Chromium development team revealed today that you can enable a "reading mode" through a command line switch.
The team has apparently been working on this feature for a while, but they only publicly revealed it today. It's not exactly easy to enable, and frankly it's not really ready for public use, but here's how you can access it.
If you're using the mobile version of Chrome, you can turn on the Reader Mode flag at chrome://flags#enable-reader-mode-toolbar-icon. You'll then need to relaunch the app and tap on the "Reader mode" icon in the toolbar to try it out.
This mode is a little harder to access on the desktop. According to the announcement, "playing with it is as easy as running chrome with the –enable-dom-distiller switch". They're asking you to set a command line option, and that's more of a hassle than it sounds. But once you have it set up, you can trigger the reading mode by selecting the "distill page" option in the 3-bar menu on the menu bar.
I've been playing with the new reading mode for a few minutes, and after trying it on a half dozen different websites I don't think it's worth your time. Sure, it works, but the resulting content doesn't look very good. There's effectively no formatting, and most other useful info has been stripped out.
It's really not a very pretty sight:
If you want this kind of feature on Chrome, I would suggest that you go get the Readability extension and use that instead. I've tried 4 different plugins and extensions, and that was the one which looked and worked the best.
Here's Readability: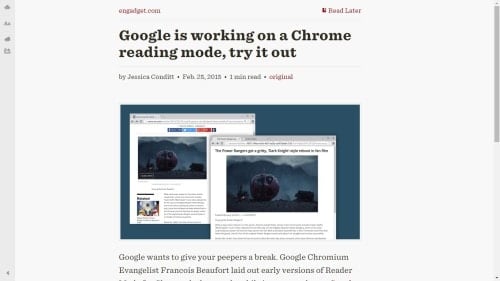 That looks a lot better, doesn't it?
What's more, the extension is easier to install and easier to access. You can find the Readability extension in the Chrome web store, and once it is installed it can be triggered by clicking the couch icon on the menu bar.
GooglePlus via Engadget