Google Play Books for Android, iOS Updated With New Cloud Storage Support
There's a new version of the Google Play Books app in iTunes and Google Play today, and if you're one of a handful of readers who buy ebooks from Google I think you might appreciate this.
According to the changelog, the new iOS app will enable users to download and read ebooks which they had previously uploaded to the Google Play Books website.  The Android app also gained that feature as well as a newly refreshed menu design and other features.
Readers can now upload Epub or PDF to Google Play and then download them from inside a Google Play Books app, with some limitations.
Google will only let readers upload 1,000 titles, and each file needs to be under 50MB in size. The upload option is also reportedly available only in the web browser, though it doesn't seem to have been enabled yet. (You can find it here.) You're also going to be able to transfer ebooks from Google Drive.
Other than the new cloud storage option, the update iOS app doesn't bring any changes. All the menus look the same. The reading view (at right) doesn't appear to have been changed, and the app looks to have the same formatting options as before.
But the Android app has had some work done. This app has a nicer menu, an improved TOC view, and it also now offers a recommendation page at the end of the ebook you're reading.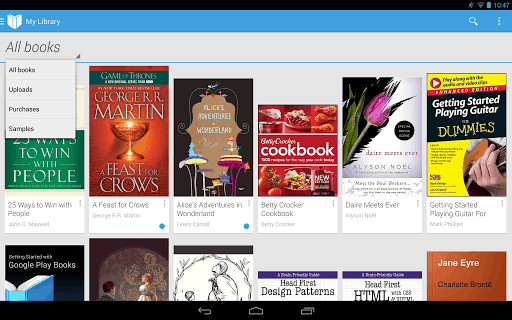 I suppose this single feature might not look like much, but it is actually a sign that Google is still committed to the ebook market. Not only is Google matching one of the nicer features of the Kindle platform, they're also giving readers much more space.
A thousand files @ 50MB each comes to 50GB.  That's a lot more than what Amazon offers in the Kindle Cloud, and it is also a lot more than the free storage available from cloud storage services. I was initially going to poo-poo this update because I already upload Epub ebooks to Dropbox, but this new service from Google is actually a better option.
And I would use it, too, if not for the fact that I prefer Aldiko.