Google Play for Education Adds Textbook Rentals, New Tablet from Samsung
Google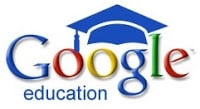 added a couple new partners to their bid for the $5.4 billion K-12 learning market this week, and they also announced new textbook options.
Toshiba, Lenovo, and Samsung have all announced that they would be launching a device as part of Google Play for Education; the former 2 will be contributing Chromebooks while the latter is launching an Android tablet.
The new Samsung Galaxy Tab for Education appears to be based on the existing Galaxy Tab 3 10.1. This is a $359 tablet running Android 4.4 Kitkat on a dual-core 1.6GHz Atom Z2560 CPU with 1GB RAM, 16 GB Flash storage, a pair of cameras, a bevy of sensors, and a 10.1″ screen with a resolution of 1280 x 800.
Samsung reports that the new version of the tablet will include the customized version of Google Play for Education which Google launched in November 2013. There's no word on price but Google has revealed that this tablet is scheduled to ship in April 2014.
Along with the Nexus 7, HP Slate 8 Pro, and the Asus Transformer Pad, the Galaxy Tab for Education will be the 4th tablet available in this program (just as soon as the latter 3 tablets are released). Selection is limited at this time to just the single tablet, the Nexus 7, though there are also 8 Chromebooks.
In other news Google is also expanding the content available as part of the program. Google has signed a new contract with HMH, HarperCollins, and Random Penguin Solutions which will "add thousands of K-12 books to Google Play for Education, from digital textbooks like GO Math! and Journeys Common Core  to classic literature like Bridge to Terabithia, Lord of the Flies, and Things Fall Apart."
As part of Google's plan to siphon taxpayer dollars away from useful pursuits, the ebooks and digital textbooks will be available under 60, 180 or 360 day rentals, thus forcing schools to pay again and again. Why a school would want to rent a novel instead of buying a paper copy (which could last a decade) is beyond me, but it appears Google expects to find interested parties.
There's no word yet on how much success Google has had since they launched their education division 2 months ago, but I do know that they have their work cut out for them. Google is one of many companies playing catchup to Apple this market.
This smartphone and tablet maker largely invented the tablet in education market, and currently claims to have a 94% market share. That equals 2 and a half million tablets sold over the past year,  and if it's true then at best all of Apple's competitors combined have sold somewhere under 200 thousand tablets.