Hands On With the 8″ Pocketbook InkPad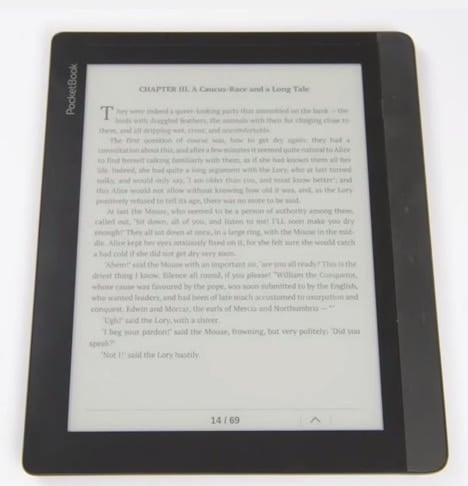 Like many of Pocketbook's customers, I'm still waiting for news of when they plan to ship their new 8″ ereader in Europe.
While trying to distract myself from pining, I spent some time today on Youtube looking at videos posted by luckier souls who managed to get in the same room as the new InkPad. I found a couple new videos that I thought showed a lot of detail about the InkPad.
And in case you're wondering, neither of the following videos are the same as the hands on video I posted earlier this month (so now we have 3 good videos).
The first video is by Notebook Italia, and it was shot at IFA Berlin earlier this month. I don't know why they took so long to post it, but it does show a few useful details for the InkPad.
The second video is considerably longer and offer a lot of detail. It's narrated in Ukrainian, and I almost passed on it for that reason, but in spite of my language issues I think this video is still damned useful.
The video starts with a woman holding the InkPad and talking about it. We get to see this 8″ ebook reader in proportion to her hands and arms, giving us a visual representation of its actual size.
It then goes on to detail many of the features, and shows us that the InkPad is still pretty laggy.
The Pocketbook InkPad features an 8″ Pearl E-ink display with a screen resolution of 1,200 x 1,600. It runs Pocketbook's proprietary OS on a 1GHz CPU with 512MB RAM, and 4GB internal storage.
It will retail in Europe for 179 euros, and yes you can get it shipped to the US. This ereader launched in Russia in August but the European launch has been delayed until the end of September (right now, basically).