Hands On with the Pocketbook Sense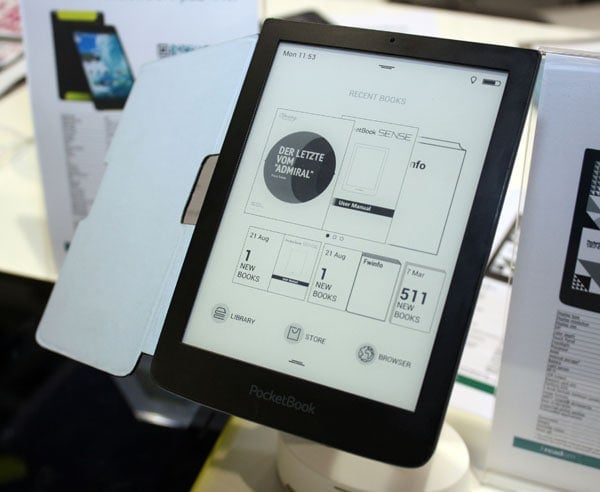 With the Kindle Voyage, and Aura H2O getting all the buzz, premium ereader seem to be where the market is the most active, and now Pocketbook is joining the fun.
Earlier this month Pocketbook announced a new premium 6″ ereader called the Sense. This ebook reader is looks like a Pocketbook  Ultra minus the camera, but it actually has at least one extra feature not found on the Ultra: an ambient light sensor.
The Sense also sports a Carta E-ink and a designer case from the French fashion house Kenzo. Notebook Italia caught up with the Pocketbook Sense at IFA Berlin earlier this month, and they just posted the video today.
This ereader launched earlier this month as both the Sense and, in Russia, the Pocketbook 630 Fashion.
According to Notebook Italia, the Pocketbook Sense will come with the cover and cost 149 euros. It will run Pocketbook's proprietary OS on a 1GHz CPU with 256MB RAM, Wifi, and 4GB internal storage. Measuring 7.5mm thick, the Sense weighs 175 grams and has a 1.5Ah battery.
It will also have the novel same page turn button as the Ultra, which is a pity. As I will explain in my review this weekend, the page turn buttons on the Ultra are one of those ideas that are great in concept but don't work out so well in practice.
Even so, this is a very pretty ereader.