Harry Potter eBooks Arrive in iBooks as Enhanced Editions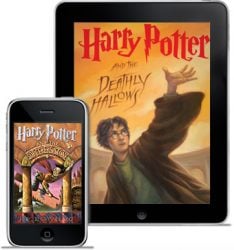 When the first legal Harry Potter ebooks were released in 2012, Pottermore was careful to remain platform-neutral and sell ebooks which could be loaded on to any major ebook platform.
Now it looks like they're playing favorites, and developing ebooks for specific platforms. Apple has announced the release of a new set of Harry Potter novels. Only available in iBooks, the ebooks feature "full original text, interactive animations, and elaborate artwork" as well as margin notes from the author.
Or at least that is what the press release claims; I bought one and I'm not sure there's enough new content to make buying a new ebook worth the cost (then again, I'm cheap).
I got the first book in the series (it cost me $10) and so far I have only found a few simple animated GIFs which did not look all that more amazing than a static image.
Edit: I just found TNM's story about the new ebooks, which included this GIF (thanks, Doug!):
There's about one GIF per chapter, and most only run about two or three seconds on a loop. A couple towards the end of the book are more elaborate, but they are the exception.
I also found a couple annotations from the author (only two in five chapters scanned). Here's what they look like:
You can find the ebooks in iBooks app on the iPhone, iPad, or for the Mac. In the US, they are ten dollars each.