Here's How Kindle's New Read/Unread Setting Works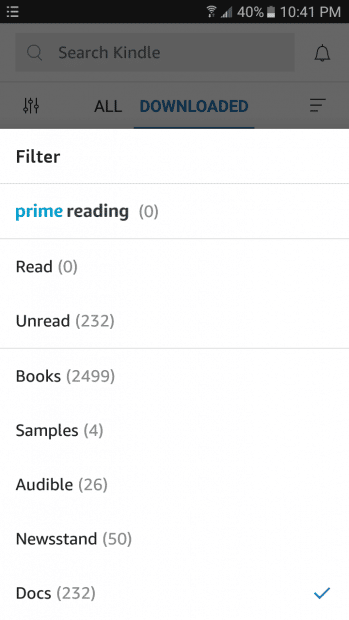 When Amazon announced the new Kindle a few weeks back, one of the features mentioned in the footnotes was that the new device would have the option to filter your library for books that you either had or had not read.
As you can probably guess, I was one of many who were excited to see this feature, and I couldn't wait to see it (I even asked Amazon when it would be rolled out, but they did not respond).
Well, I have seen it, and I have a report from a Kindle owner who has seen it, and the feature doesn't work the way I had expected.
I was sitting in my car this evening, reading on my Android smartphone, when the Kindle app used a pop-up to inform me that the app had the new Read/Unread filter. It seems the feature had been added in the late March 2019 update, but had only just been activated on my phone today.
I was at the Hanover Writing Club meeting to discuss the final details for their book festival next week (I organized the author gift bag) but since I still had a few minutes I immediately started playing with the new filter to see how it worked.
I had assumed that the "read" label would be automatically applied when I finished or nearly finished a book, and that does happen when you reach the 100% mark on an ebook.
But no one actually gets to that point unless they are testing the Kindle app for errors, and that's why you can also mark an ebook as "read".  After some experimentation I found that I could mark an ebook as read, but only in the library, and not inside the ebook.
It's great that there's a manual option; this let me identify the ebooks I have abandoned so i can go back and delete them all in one go.
Have you tried the new feature yet?