How to Limit Data Tracking on Your Kindle eReader and Fire Tablet
I helped a reader enable the privacy settings on their Kindle ereader today, and I thought it would be useful to share what we did.
I am sure many people know by now that Amazon tracks everything you do on your Kindle ereaders and Fire Android tablets. Some of this is so Amazon can store your reading location and annotations in the cloud, but Amazon is also tracking you so they can show you adverts (and also so they can sell the data to other advertisers).
BTW, I also have a longer post on privacy settings for your Amazon account.
You can disable the ad-related tracking on Amazon devices that run the latest version of the firmware, but not Kindle apps or older devices. You have in fact two different options; the first is to disable the tracking in the privacy menu of each Fire or Kindle, and the second is to disable it via Amazon.com.
Here's how.
Amazon.com
Go to Amazon.com, click on the Accounts & List drop-down menu, and then select "Manage Your Content & Devices". This will take you to the page where you can manage your devices, apps, and the content on them.
When you are in the MYC&D menu, select the option for "Privacy Settings".
In the next menu, click the "Manage Settings" button under Amazon Devices Privacy. This will take you to the menu you can manage the privacy settings for each applicable device.
You will need to select the devices one by one, and disable each type of tracking one click at a time.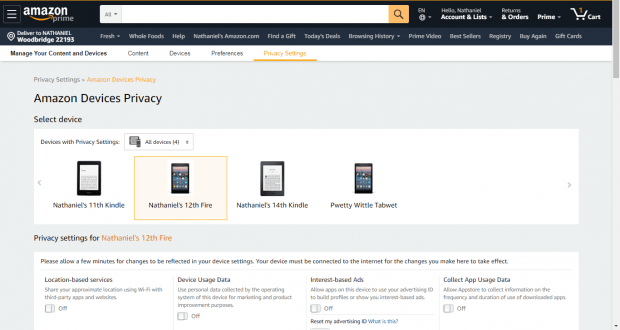 You might find that some of your devices are listed here but do not have any settings you can change. Those are the devices that need to be updated before you can  manage the device's privacy settings.
And of course, any devices not listed are going to be running software so old that you cannot enable the privacy settings.
On the Device
While I prefer to change the settings via Amazon's website, they are also accessible on each device in the settings menu. The relevant option is about 4 or five layers deep, but they are there.
If you want to turn off tracking on your Kindle, go to the settings menu, and then select device options and then advanced options. One of the settings on this screen will say "Privacy". Select it, and when the menu pops up, select the "enable" option".
To turn off tracking on your Fire tablet, go to the settings menu, and then select security and privacy. There are two settings you need to change, "device usage data" and "collect app usage data".
Select them one at a time to open the relevant menu. You will find one toggle in each menu; make sure it is flipped to the left. This stops Amazon from continuing to collect the data.