How to Speed Read in Reading Apps on Android
Between books, daily news, and academic papers, we've long passed the point where our supply of reading material exceeds the number of atoms in the universe.
Even if we limit ourselves just the major news sites, or only the biggest book publishers, or strictly the leading scientific journals, there's still enough to read to occupy all the days left in our lives.
This has lead some to start using reading apps with text-to-speech features in order to keep up, but not everyone likes having articles and ebooks read to them aloud.
And so I would like to present an alternate solution: speed reading.Whether it's RSVP, chunking scanning, or subvocalization, speed reading techniques have been around for decades, and thanks to reading apps it is easier than ever.
Here are a few of the better speed reading apps on Android.
I checked several posts on speed reading apps, and they all forgot to mention that Amazon added a speed reading option to the Kindle platform.
Word Runner shipped with the new Fire tablets in September, and Amazon has since added the feature to both the Kindle app for Android and iOS. Like Instapaper, Amazon developed their own solution to speed reading, and you can read more about it on the Amazon website.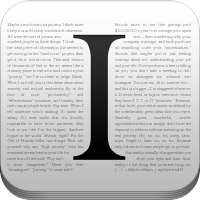 While most articles on speed reading apps focus on ebooks, the fact of the matter is ebooks are just the beginning. If you want to read your saved news article quickly, install Instapaper.
Both the Android and iOS apps have this feature.
If Kindle and Instapaper aren't your thing, then this is the app for you.
There are a dozen, a gross, and a score of speed reading apps in Google Play, but this one stood out as the most versatile. Where most speed reading apps will let you load an ebook and read it quickly, Speed Read with Spritz works to integrate other reading apps with Spritz, the leading speed reading platform.
Do you want to speed read in Pocket? Would you like to read a PDF quickly?  Or do you have a favorite third party app?
Then this is the app for you. SRwS works with other apps by tying into the test-to-speech feature on Android. Install it, and then select it as your preferred TTS engine. The next time you tell your reading app to read aloud ot will instead offer to flash the words at you using SRwS.
I've tested this app with ezPDF, Pocket, and FBReader. It did not work with Google Play Books, but it did work with the other three apps mentioned. And according to the listing, it works with Moon+ and many other reading apps on Android.
It's the best option, in my opinion, but it's not the last one. Here are three more possibilities.
 O O O
ReadMe – This free third-party app integrates with Spritz to let you read DRM-free Epub quickly. It's available on both Android and iOS, and it would be my favorite if not for Speed Read with Spritz.
A Faster Reader – This paid app is another viable alternative. Like SRwS, it can work with other reading apps, and according to its description in Google Play you can also share a web article froM Chrome and use AFR to speed read.
Balto – This is a free Spritz clone that says it can read DRM-free Kindle, Epub, PDF, and FB2 files. It can also pull files from Google Drive or Dropbox, and you can use it to articles from Feedly and Flipboard.
O O O
The six apps mentioned above are only a tithe of the speed-reading apps available, both paid and free, and I would bet that I left out someone's favorite.
Do you have a speed reading app that you like which is not listed above?
image by CJS*64