InkBook Classic Launches in the Czech Republic – Carta Screen, $97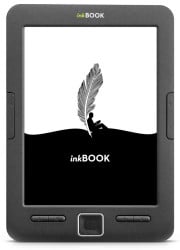 When ArtaTech released the InkBook Obsidian a couple weeks back they also briefly mentioned another cheaper ereader, the Inkbook Classic, which would be launching at a later date.
While ArtaTech hasn't announced the Inkbook Classic, it has shown up on another retailer's website in the Czech Republic.
Axos.cz is now carrying the Inkbook Classic for a local price of 2,399 Czech Koruna, or about $97 USD, and while they may call it a classic I'm not sure that word means what they think it means.
The Inkbook Classic sports a 6″ Carta E-ink screen (1024 x 758 resolution), which is great news for a $97 ereader, but the good news ends there. This ereader lacks the Android OS found on the more expensive Inkbook models, and it also lacks a frontlight or a touchscreen.
Instead, the Inkbook Classic runs a localized reading app a closed (but unnamed) OS. It comes with 4GB internal storage, a microSD card slot, and Wifi. Navigation is handled by the d-pad and function buttons below the screen, and there are also page turn buttons on either side of the screen.
Format support is limited to Epub, PDF, Mobi, FB2, and RTF, but no audio. So in short, this is a very basic ereader with a Carta E-ink screen.
By the standards of 2015, that is a strange device. Aside from a couple models released in Russia or China, I don' t think we've seen a touchscreen-free ereader since Amazon re-released the basic Kindle in 2012 (in black; the gray model shipped in 2011). And with good reason; even with a touchscreen, ereaders are still getting cheap.
But I suppose that Axos.cz thinks there's a market for Inkbook Classic. But with the basic Kindle available from Amaozn.de for 69 euros, I'm not sure how big that market is.