Intel Launches New Educational Tablet, Laptop
Intel hasn't had much visible success in selling gadgets in the educational market, but that hasn't discouraged them from continuing to acquire ed-tech startups and launch new hardware.
There's a new press release over on the Intel website today which touts new Android tablet and Windows notebook reference designs that Intel is launching in the education market. There isn't any info on price or release date, but Intel has released the basic specs and a few details about the optional accessories.
First up is a new Classmate PC. Intel released the first Classmate PC reference design in 2006, and over the years they've debuted several updated models with each model featuring improved specs.
The current Classmate PC now features a 10″ screen with an optional touchscreen. It runs either Windows 8.1 or Linux on a dual-core 2GHz Celeron N2806  CPU with a reversible 1MP camera, 4GB RAM, a 320GB hard disk, Wifi, and Bluetooth.
This design has already been picked up by HP as the HP Classmate Notebook PC (it was first announced by HP in December). According to HP this laptop will weigh just under 3 pounds and have a plethora of card slots and ports. I cannot find a price but that second link leads to HP's spec sheet, and it offers a complete set of specs for this laptop.
When it comes to software and accessories HP hasn't released any info, but Intel is saying that both the new tablet and laptop  will have optional magnifier that snaps on to the camera, and a temperature sensor probe that plugs into the device's audio jack.
Both devices will likely have access to the educational content store which Intel launched last year but hasn't promoted very much. I found it via a story from Kenya, which should tell you something about Intel's international priorities.
While many people watching the ed tech market are focused on the US, Intel has been working to promote their ed-tech division everywhere. For example, last year they formed a partnership with a Philippine ed-tech company. They also sold 750 educational tablets to the Department of Education in Makati City (a city in the Manilla metro area) for  around 30 million Philippine pesos (about $750,000).
This one, in fact:
The tablet bought by Makati City is an older model but it did come with the temperature sensor and  magnifying lense mentioned above. I'm told it also came bundled with the software, infrastructure, digital content, services, training, and support needed to make effective use of the tablet in the classroom.
The new Intel Education tablet features a dual-core 1.2GHz Atom Z2520 CPU. It runs Android 4.2 (slightly newer version of Android than the Android 4.0 on Intel's last educational tablet), and according to the spec sheet it has 1GB RAM, 8GB Flash storage, a microSD card slot, 2 cameras (VGA and 5MP), Bluetooth, Wifi, and a variety of ports and sensors.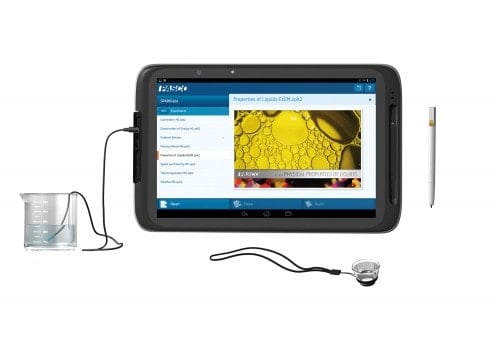 As you can see in the image above, the new tablet looks much like the previous model with a rubber shell, stylus, and accessories, though it does have at least one feature not found on the older model when it launched. There's also a mention in the spec sheet of Kno, the digital textbook startup which Intel bought last November. Intel is now using Kno to supply digital textbooks and a new educational environment to students and teachers.
This tablet reportedly has 12 hours of battery life, and weighs 710 grams. I don't see any details on price or release date, but if you happen to be in London this week you can stop by the BETT trade show. Intel will be showing off their new hardware in their booth.
This tablet is the 4th tablet reference design announced by Intel. The first was released in early 2013 as the Studybook, a $700 mistake wrapped in a rubber shell. And then last Summer Intel introduced 2 new tablets (a 7″ design and a 10″ design) before replacing them with a new tablet today.