Is Amazon Looking to Buy Comixology?
There's an
interesting rumor going around comic book circles this week, and it just crossed my desk today. It seems Comixology is rumored to be up for sale, with a deal expected to close in the next 3 to 6 weeks:
ComiXology has an effective monopoly on the digital sale of many popular comics on a number of platforms, but a recent departure of many senior figures and a number of exclusive distribution contracts coming to an end have caused some to wonder what its next move would be.

The answer seems to have been to expand internationally with India, China and much of Europe and South America being especially receptive. While much of the revenue goes to the publisher and to Apple, it should be pointed out that ComiXology is repeatedly the No. 1 gross revenue app on iOS, especially on Wednesdays.

But who would buy such a company? Well, the second part of this rumour, which suddenly gets a lot hazier, is that the buyer could be Amazon. They already distribute comics digitally through the Kindle – directly and also via ComiXology. There has been some competitive ruckus between the two in the past, and this would smooth that over instantly. And this also might create an effective digital comic book monopoly.
I can't say for sure whether this rumor is true or not, but it is one of those rumors that would make a lot of sense.
Update: It's true!
Iconology (the parent company that owns comiXology) dominates the digital textbook market, and they are have a strong influence in paper comics distribution. This company was initially launched with the idea of providing a "pull list" service which enabled comic book fans to request that their local comic book store order specific titles each week. (This is worth more than it might appear.)
ComiXology used that pull list service to develop close ties with publishers, and when the time was ripe they used those ties to launch a digital comics platform which now dominates that market in much the same way that Audible dominates audiobooks. They have apps for Android,  iPad, Windows 8, iPhone, and the web browser, as well as the largest digital comic catalog anywhere.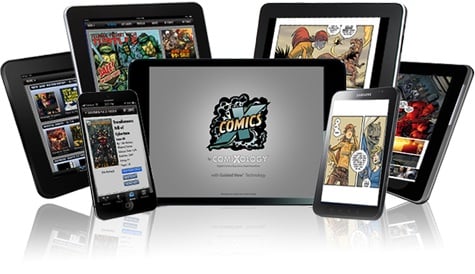 Iconology is an interesting company, all the more so because I can't figure out who owns it or how it is funded. They won't say, and the information isn't publicly available. (I checked.)
But is Amazon trying to buy Iconology?
It would certainly make sense. I've been saying for nearly a year that Amazon was going to buy the leading retailer in markets where Amazon only has a token presence, and Iconology definitely falls in that category. What's more, this move would give Amazon a dominance of the digital comics market that mirrored their presence in audiobooks.
Of course, that does not mean this rumor is true, but I would not be surprised if Amazon announced this deal a few weeks from now.