iTunes T&C updated – now mentions subs
As part of the launch of The Daily yesterday, Apple updated the T&C for iTunes. It looks like they're going after a cut of all the money, not just the single issue sales. To be fair, I'm not all that upset by this change. These terms really aren't all that unreasonable.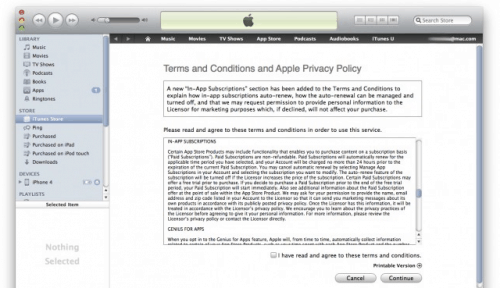 They've now spelled out how subscriptions sold through the app store will work, and I don't see anything you wouldn't expect. Apple will automatically collect the subscription payment less than 24 hours before it's due, but won' t charge you if the price went up. Apple will also bug you about sharing your email and contact info with the app's publisher.
Here is the relevant change:
Certain App Store Products may include functionality that enables you to purchase content on a subscription basis ("Paid Subscriptions"). Paid Subscriptions are non-refundable. Paid Subscriptions will automatically renew for the applicable time period you have selected, and your Account will be charged no more than 24 hours prior to the expiration of the current Paid Subscription. You may cancel automatic renewal by selecting Manage App Subscriptions in your Account and selecting the subscription you want to modify. The auto-renew feature of the subscription will be turned off if the Licensor increases the price of the subscription. Certain Paid Subscriptions may offer a free trial prior to purchase. If you decide to purchase a Paid Subscription prior to the end of the free trial period, your Paid Subscription will start automatically. Also see additional information about the Paid Subscription offer at the point of sale within the App Store Product. We may ask for your permission to provide the name, e-mail address and zip code listed in your Account to the Licensor so that it can send you marketing messages about its own products in accordance with its publicly posted privacy policy. Once the Licensor has this information, it will be treated in accordance with the Licensor's privacy policy. We encourage you to learn about the privacy practices of the Licensor before agreeing to give it your personal information. For more information, please review the Licensor's privacy policy or contact the Licensor directly.