JetBlue Launches its Third-Annual Free Book Marketing Campaign
For the past couple summers JetBlue has been buying itself good PR by briefly giving away free ebooks from vending machines, first in Detroit and then in Washington DC.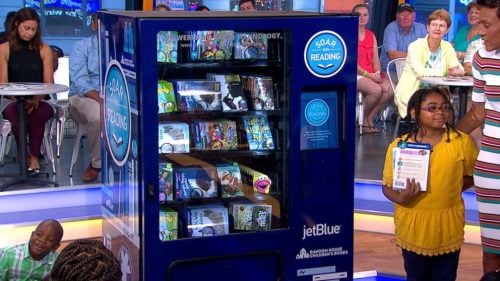 Now local newspapers are reporting that JetBlue has set up its book vending machines in Fort Lauderdale, Florida.
From the Sun-Sentinel:
That was the expectation Tuesday at JetBlue Airways as the carrier launched its "Soaring with Reading" program at Joseph C. Carter Park on West Sunrise Boulevard, one of several city sites that will distribute 100,000 free children's books this summer through Aug. 31.

Through a partnership with Random House Children's Books, the JetBlue initiative aims to serve underprivileged children living in "book deserts" or places where there is limited or no access to buy age-appropriate books.

Last summer, Fort Lauderdale was selected as the 2017 recipient for the JetBlue giveaway through an online public vote. It's the third U.S. city behind Detroit and Washington, D.C. to receive books through the new vending machine component of the airline's seven-year-old program.

Besides Carter Park, the other vending machine sites are: Osswald Park, 2220 N.W. 21st Ave.; Edgar P. Mills Multi-Purpose Center, 900 N.W. 31st Ave. and Riverland Branch Library, 2710 Davie Blvd.

Children who visit the machines will be able to take as many books as they want and as often as they want to build their personal home libraries at home. Some of the titles are in Spanish.
The locals love it:
I would be more appreciative of the program if JetBlue demonstrated that they were planning to stay in the community past the end of the summer, if they were willing to make a long-term commitment.
But they are removing the book vending machines in a couple months.
That's not a literacy program.
It's a photo op.
image via ABC News