Joan is an E-ink Smart Sign
Visionect, based in Slovenia, has launched a new epaper signage platform that enables anyone to install a digital wall sign outside a meeting room and keep it updated over a wireless network.
The Joan Meeting Room Assistant is up for pre-order for 249 euros and will officially launch at CES 2016.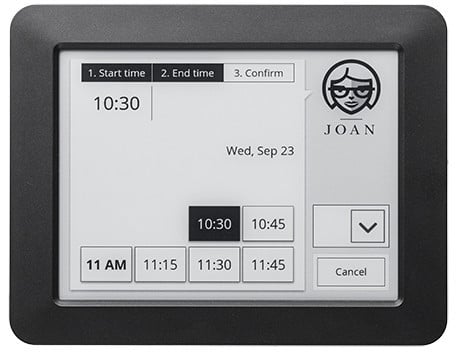 Joan is built around a 6″ Carta E-ink display with a capacitive touchscreen, Wifi, and a 5Ah battery. It runs Linux on an unnamed ARM chip.
"Unlike the LCD-based room labelling solutions, ePaper running on the Visionect Platform features minimal power consumption, about only 1 percent of that of an LCD, resulting in extreme energy savings when using Joan," explained Matej Zalar, CEO of Visionect, Joan's developer.
It is more or less a thin-client display which is is designed to work with online calendars like Office 365, Google Apps, or Microsoft Exchange 2010. Once it's set up, it will periodically query the online calendar and update its display.
Thanks to the touchscreen, you can update the schedule from the device itself.
Visionect has been working on similar products since 2013. They launched their first product, a wireless display similar to Joan, in February 2014.
And they're not the only ones interested in using E-ink in wall signs. Mpico, E-ink, and Pervasive Displays installed a similar (albeit much larger) 19′ display in the UN in September 2013.