Kindle Voyage Back-Ordered, Now Ships on 21 November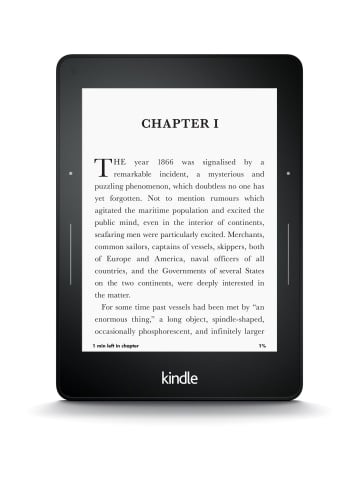 When I first reported the launch of the Kindle Voyage last week I said that the $199 price tag was more than I was willing to pay for a 6″ ebook reader, sight unseen, but now it would seem I am in the minority.
A quick check of the Kindle Voyage page on Amazon this morning has revealed that several of the Kindle Voyage models have been delayed as late as the second week of December. While the 3G+ads model is still scheduled to ship in October, the other three options have been pushed back at least a month (there's also a quota of two per customer).
It's only been 4 days since Amazon since Amazon launched this ereader, which was originally scheduled to ship on 21 October. But thanks to either short supply or high demand, Amazon has pushed back the ship date on new orders of the $199 Wifi+ads model to 21 November, and they have also bumped the ship date for the ad-free models (both 3G and Wifi) all the way back to 7 December.
Amazon says at 7.6 mm thick, the new Voyage is their thinnest ereader yet. It sports a 300dpi screen, page turn buttons, and 4GB internal storage.
It's not clear just how many Kindle Voyages Amazon has sold, but we do know that the new tablets aren't similarly blessed with a demand that exceeds supply. Both the new 6″ and 7″ Kindle Fire HD tablets are still scheduled to ship either on 2 October (black) or 16 October Citron, Magenta,White, or Cobalt). And of coursethe updated Kindle Fire HDX 8.9 is still scheduled to ship on 21 October.
Similarly, the new basic Kindle is still on for 2 October. That model is more of a revived Kindle Touch (minus the audio) than a new edition of the old basic Kindle, and with its launch Amazon reduced their development costs considerably.  Now they can maintain one version of the Kindle OS, and customize it for 3 screen resolutions, instead of supporting different versions of the OS which ran on disticly different hardware.
So did you order a Kindle Voyage?