Leaked iPhone 8 Renders Show Dual-Cameras, Rear Touch ID Sensor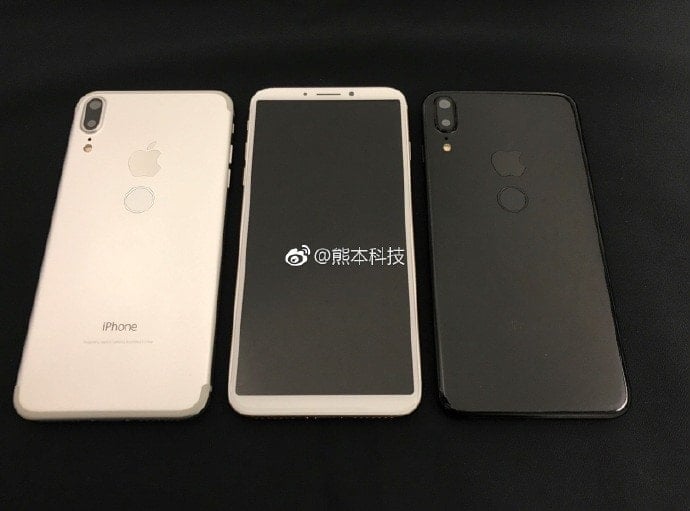 Due out sometime this fall, the iPhone 8 is rumored to have an edge-to-edge screen and vertical dual cameras (but only on the high-end models).
And recently uncovered renders would seem to support the rumors, although some argue that these images are fakes.
9to5Mac posted the leaked" renders yesterday, writing:
The top image seen above appears to show the Touch ID finger print sensor located on the rear side of the iPhone just under the Apple logo. Reports and predictions so far have not settled on whether or not Apple will be able to mass produce new iPhones with Touch ID integrated into the front display.

Moving the finger print sensor to the back side as seen on several Android handsets has been suggested based on various schematic leaks and analyst predictions.

The new images appeared on Weibo today and could be inaccurate depictions of how the iPhone 8 will look when it ships, especially if Touch ID is integrated in the front display. Other details to note include the lack of glass on the rear side when analysts predict the next generation iPhone will feature a glass front and back in part to accommodate wireless charging. These images appear to show the same jet black glossy finish on the black version while the white version includes silver and gold aluminum casing like the iPhone 6 through 7.

The front display also doesn't appear to offer the expanded camera setup expected to ship on the iPhone 8 later this year, although these could be indicators of the design in an early stage. Back in April, schematics leaked claiming to show one version of the iPhone 8 design with a similar look as these units.
While these images are credible, there's at least one expert who disputes their accuracy. Bejamin Greskin wrote on Twitter that "All my sources said that this is totally wrong design. iPhone 8 is not going to look like that."
In an earlier tweet, he also linked to this Youtube which showed a dummy iPhone 8 unit:
It's hard to tell who is right, but I have to agree with the commenters on 9to5Mac who thought the touch ID sensor looked ugly as shown in the render at the top of this post.
If Apple is going to move that sensor to the rear of the iPhone 8 then it would look better if integrated with the Apple logo. That would combine form and function, leaving the iPhone 8 pretty while putting the touch ID sensor in a convenient location.