LongForm Releases New Curated News App for iPad, iPhone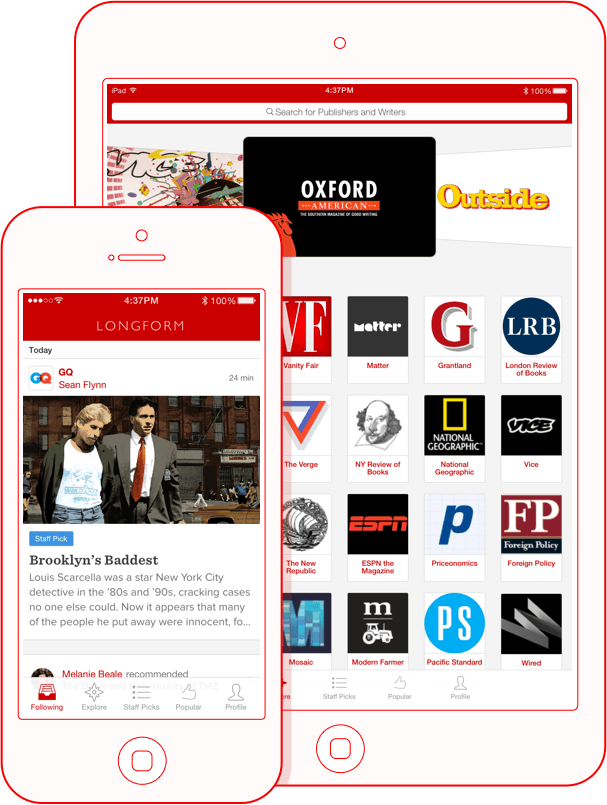 Longform.org, one of two services that curate and promote quality non-fiction writing on the Web, released its new iOS app today.
The service is replacing the paid iPad app which it had initially released in 2012 with a new app that is free and runs on both the iPad and iPhone . (There is no Android app).
Capital NY reports:
The new app is far more exhaustive, and for the first time is customizable. Instead of the 50 or so magazines that were available on the iPad app, over 1,000 publishers will be specifically included on the new one.

Users will also have the option to "follow" specific publishers and writers—doing so will generate a feed of published content that is similar to a curated Twitter stream.

And, like on Twitter, users can "follow" one another; as a result, articles recommended by one user will show up in the feed of another.
You can find the app in iTunes.
Do you follow Longform? What about its recently acquired competitor, Longreads?
I follow the RSS feeds offered by each service, where they tweet links to the articles they find. Not counting duplicates, the two services link to (I think) about 15 articles a day. I don't have enough hours to read nearly that many articles, but I do click through on some of the stories with interesting titles.
Even though I skip most of the links, these services are still useful. They keep my reading habits from getting too narrow and too focused on digital publishing, while also introducing me to better writers that I might emulate.