MoFing Android Tablets Launched at IFA-Berlin
IFA may have wrapped up over a week ago, but not all the interesting tech stories have been told.
Mike Cane turned up a promo video a few days back for a new tablet maker called Thomson Tablet. Neither of us have heard of this company, and a brief search of gadget blogs  showed that no one else noticed they were at IFA. I was about to put this down as a puppet company when I found one French tablet blog who spent some  time with the new gadgets.
Thomson have 3 tablets and an ebook reader on  their website, but it appears that only the 1 tablet made it to IFA.
The ereader looks to be a fairly ordinary 6″ E-ink device with 2GB Flash storage, SD card slot, but no Wifi or touchscreen. Given the incomplete state of the Thomson website, I don't expect it to arrive anytime soon.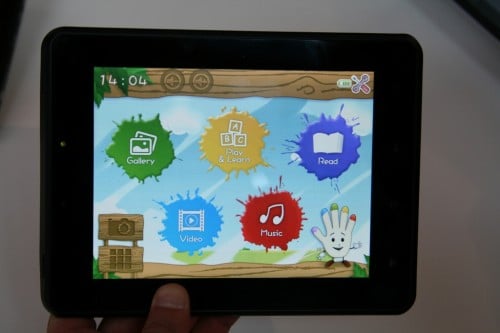 ILoveTablette shot a hands on video (in French) of the Mofing 701, but I don't recommend that you watch it. The Thomson rep holding the tablet keeps waving his arms around while he's talking and I so wanted to reach through the screen and rip his arms off.
But this looks like an interesting tablet. It's based on the usual 7″ (800×600) screen, and it's running Android v2.2 on a 1GHz Cortex-A8 Samsung CPU. It has Wifi, Bluetooth, HDMI out, a g-sensor, and a capacitive touchscreen.
It's not shipping with the Android market, obviously, but it will have Thomson's own app store. Like the Viewsonic Viewpad 7e I showed you last week, the MoFing 701 is also going to ship with a customized interface that Thomson developed internally (not the one above). The above photo shows the MoFing Kinds interface; you can see the other MoFing interface on the Thomson website.
Thomson also have 2 other tablets on their website. As you can see from above one is a 7″ and the other a 9.7″ Android tablet.  The 9.7″ tablet doesn't appear to have been caught on film,but you can see the 703 in the video. Both the 703 and the 907 are several steps up from the 701. They have a pair of cameras (1.3MP and 5MP), Wifi, Bluetooth, GPS, HDMI out, a g-sensor, and they both have a capacitive touchscreen. Thomson also identified them as using an IPS screen (some premium tablets use it).
All 3 tablets use the same customized interface on top of Android v2.2, and they all have the same CPU – a 1GHz Cortex-A8 Samsung CPU. they will be shipping with similar app suites and they will use the same MoFing interface.
I don't have any info ion when these tablets will ship but my guess is not soon. (This might be in the hands-on video but I don't want to watch it). But given that this is a French company, it's probably going to hit the market there first and spread to the rest of Europe second. The MoFing tablets probably won't be released in the US.
Two of Thomson's 4 devices are barely worth a mention, but the 907 and 703 are rather curious devices. They don't have the CPU or Android OAS that you'd find on a premium tablet, but they do have everything else. It's a little odd that Thomson spent so much on all the components going into these tablets and chose a so-so CPU to run them.
—
For more ebook news, subscribe to the RSS feed or the daily email newsletter.